Van drivers – the silent professionals
One in ten vehicles on the road is a van - 4 million vans
Vans equal £56 billion of UK economy.
LSA at Silverstone this week to look at how we can address the challenge of vans on our roads with Highways England. Highways, a shared showcase of all things road from cone trucks to speed cameras, vans at the heart of it.
LSA in the seminar room full, standing room only for big sector turn-out. Highways England boss Jim O'Sullivan keynoted,
Since 2010 there has been a substantial increase in the number of vans under 3.5 tonnes operating on the Strategic Road Network. Circa four million vans on the road today, that's one in ten vehicles on the road. 'This growth in traffic on our network has led to a corresponding increase in the involvement of vans in road traffic collisions. In 2017: 46 fatalities, 292 serious injuries (18.2 % of all fatal and serious injuries) and 2773 slight injuries in collisions where a van under 3.5 tonnes was involved.
Safety at the heart of Highways England event delivered a safety moment to start the Silverstone van summit,
Fatigue - not regulated in vans - is a moral responsibility. Don't let tiredness creep up on you.
Challenges of vans on the Strategic Road Network
Jim O'Sullivan Chief Executive at Highways England,
'I learned to drive in a Ford Escort van.'
'Roads are complex, we work with many users, we are adult-to-adult, vehicles should be roadworthy, it should have enough fuel.
We will provide journey information and roadwork information. We have worked with HGV trucks to motorcycles. 500,000 people out there driving vans, approx 56 billion pounds of contribution to the UK economy.
I would like to see company names on working vans.
Our motorways are amongst the safest roads in the world, they are ten times safer than urban roads. Accident numbers are matched between smart and conventional motorways.
One in ten mortalities happen on the hard shoulder. The hard shoulder is not a place to relieve yourself or stop for a child to be sick.
14% of motorway breakdowns are vehicles running out of fuel.
Things that reduce cost and improve safety are a no-brainer. There are drivers out there that do not understand their company driving policy, there is an opportunity to work with leaders in this room to engage with drivers.
Sarah Bell Traffic Commissioner
'The message today is that compliance pays'
I am going to talk four-letter words – Tell – Know – Safe - Stop . 'I am passionate about road safety. I am an honorary fellow of the Institute of Couriers, I was awarded that honour for work on the London Olympic Games freight delivery and road safety. We have a legal duty to keep people safe, it's not always what we do, sometimes it is inaction that causes issues. 95% of accidents are caused by human error, this is a known known. In terms of risk, the first duty is to control risk. Your drivers are one of your biggest assets and at the same time your biggest risk.
Four letter words,
Tell, if you hold an O licence you have to tell the Traffic Commissioner bad news.
The next four-letter word is Know. You are deemed to know all the advice and guidance in the public domain. That's a big task; road safety documents are in the public domain. it means there is no defence to say 'I did not know' you can also adapt HGV material for vans, think about walk-around vehicle checks you can use for vans, simple tricks and tips. We often hear the term,' go home safely'; do you ask are they safe when they arrive back at work?
Safe is my next four-letter word, 'I hear a lot of 'why?.' Audit trails are there to protect drivers, if you have robust systems and you follow them, when something goes wrong you are fine.
Final four-letter word, STOP, take some time - stop and review.
Gordon Macdonald Head of Enforcement Policy at DVSA
72% of vans stopped are overloaded
Compliance in the LGV van world, We find 72% of vans stopped are overloaded. There are many more LGVs on the roads today, we believe over four million LGVs are on the road compared to five million HGVs. There is no driver hour regime for LGV vans. I ask you to think about vehicle maintenance systems and drivers' hours on vans. Our resources are limited and focused on HGVs.
Brakes, suspension, tyres and overloading are the main issues we deal with. We find 72% of vans stopped are overloaded.' Gordon talked about the Van Challenge. 'How do we reach out to van users? We have YouTube clips on walk-round vehicle checks, how can we get the message out? 85% of what DVSA inspectors find should have been picked up at the vehicle walk-round check.
INSPIRING OTHERS at the Highways England van Summit
DPD talk clean, safe delivery every time at Van Summit
Richard Leonard Head of Road Safety, Highways England introduced a van operator focus group of speakers from tyre to training with a keynote from national express final mile operator DPD delivering five million parcels a day in Europe.
At DPD we want a clean, safe van at every delivery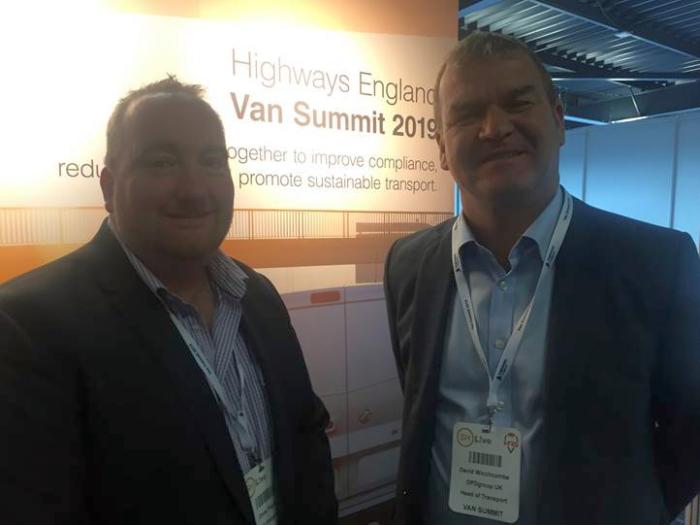 DPD Chris Floyd with David Winchcombe Head of Transport, DPD Group UK, '5 million parcels a day in Europe
David talked eleven and a half thousand vehicles, five thousand vans, in peak as many as seven thousand vans in the UK.
At DPD we deal in honesty, our DNA is to understand every accident. A new driver at DPD completes a Business start course. Safe loading, daily vehicle checks, driving techniques, service & repairs and accident reporting. We focus on driver engagement, a service champion group exchanging good practice, looking at driving assessments, load weights, speed and vulnerable road users.
David talked about using a QR code to identify vehicle and specification and exchange data to partners.
NIRVANA, means peace and tranquillity and it has VAN in the middle, this is our DPD programme for process & procedures, we have fleet ambassadors to look and check vans, report quality & daily checks. At DPD we want a clean, safe van at every delivery.
Mark Byard Health, Safety and Wellbeing Director, Highways England closed,
the silent professional is key; the unliveried van, I ask you to make a difference, get home safe and well.