LSA were in Manchester today Tuesday 10th Sept for the TfGM keynote
Manchester, Trafford Park logistics homeland for a run on the M60 to the rugby stadium of AJ Bell for a well attended Motor Transport Clean Air roadshow.
Trucks showcasing gas in the car park, a busy micro-table trade show and a long room full house seminar room shadowed with green roof lights to set the mood for compliant emissions and green transport
Motor transport, Hayley Pink delivered the H&S, 'turn left onto the rugby field if the alarm calls'
Three short workshops, gas, electric & euro 6 with a free lunch.
Seminar keynote from TfGM Megan Black, a full update on Manchester clean air zone,
We expect a clean air loan scheme, to use Govt standard signage for the clean air zone and a Govt standard payment portal, LGV not meeting emission compliance will be set a penalty at seven pounds fifty a day, seven days a week, twenty four hours a day.
Councillor Roger Jones chaired, 'the answers are not always what we want.'
The Greater Manchester Clean Air Plan detail
Keynote update on the Greater Manchester Clean Air Plan. Megan Black, Head of Logistics & Environment, Transport for Greater Manchester.
Ten local authorities in Greater Manchester, Govt has directed us to act, The joint air quality unit. In Greater Manchester we have mapped the NO2, we have 150 road stretches that are in breach of the air quality. We need to reduce NO2 in the shortest timescale. Govt asked to us to introduce a clean air zone (CAZ). Govt set the CAZ compliance, class A to C, from bus to motorcycle, car and truck. Seven pounds fifty is the target penalty for LGV, one hundred pounds for HGV, bus and coach. Ethos of the clean air zone is a penalty for vehicles that do not meet the emission requirements, this is not a congestion zone. Set to be seven days a week, twenty four hours a day. We expect Govt to provide a payment portal and that we would use a standard signage, recognised UK wide.
We have to make a compelling request to govt for funding the GM Clean Air Zone. We have asked for £36million to aid in setting up the clean air zone infrastructure. The minister responded in July and the Greater Manchester Combined Authority discussed the response at a meeting July 26th. A further consultation will follow and we welcome your feedback both today and in the coming weeks.
Manchester Clean Air Chair's keynote,
Councillor Roger Jones, Executive Member for Transport,
Roger Jones, City of Salford Council and former chair of the passenger transport authority for Greater Manchester.
I am not here to talk politics, Govt have instructed local authorities, two stages of plans, it's controversial to deal with road charging, clean air zones. Local authorities have to do what we are told. Health issues, clean air, Govt & local authority should have dealt with clean air and pollution years ago, we do have schools placed on busy roads, we have to tackle air quality but we need as much time as possible. When we put a bid into govt for our plan it takes time to get answers and the answers are not always what we want.
The answer should be, all your vehicles should be compliant and we will give you money to upgrade existing vehicles, the aim of our scheme is to get vehicles compliant, we must wait to see how much money Govt give us to make this happen.
Practical Advice Workshop Sessions
Delegates streamed into three groups to attend 45-minute workshops refuelled with coffee and cake, where were the bacon butties?
Session 1: Preparing for Clean Air Zone
Future-proofing your fleet – why going beyond CAZ compliance can be a smart move. Fergus Worthy, Senior Transport Consultant, Cenex, 'There are benefits to going beyond clean air zone standards, London and ULEZ has arrived, other cities will follow. Zero emission zones could be with us soon. Sadiq Khan is talking 2020 zero emission zones for London. Procurement contracts are starting to set targets for emission. Can alternative fuels save money or should we skip direct to zero emission?' Congestion and clean air charging fees have a big impact on whole-life cost of electric vans. We are not seeing sensible business cases for heavier vehicles to move from diesel. Big trucks moving to gas can see ten per cent whole-life savings.
The alternative fuels landscape – what's available now and what's on the horizon. Martin Flach, independent Commercial Vehicle and Alternative Fuels Consultant, former Iveco talked vans, 'Let's have a look at today's landscape and what is on the horizon. NO2 - CO2 and particulates, it's not the same. Local air quality and global warming are different issues. Euro 6 back end of 2016 saw a huge reduction in emission issues. Moving from diesel, what can I use? Cost of ownership needs to be good and you need to be able to re-fuel.' Martin talked vans with few solutions in truck.
Retrofit options - Clean Vehicle Retrofit Accreditation Scheme (CVRAS)
Colin Smith, Programme Manager – Freight & Clean Vehicle Retrofit Certification, Energy Saving Trust, 'Manchester, you could avoid the zone, that may be impossible, you can accept and pay the charge, you could change vehicle, find a second-hand euro6. You could retro-fit, what is the service life left in the vehicle? Do you replace or retro-fit? At what point is the box on the back more valuable than the chassis and cab? We have checked and tested cycles on performance matched to euro6, check our web site.
Session 2: Operating Factors
Commercial vehicle operators shared first-hand experience of implementing alternative fuel vehicles in their fleets, offering practical advice for others looking to follow suit. Heated seats and steering wheel for single occupancy vans appears more economical than conventional heater use in the cold weather.'
David Batty, Fleet Engineer, Abbey Logistics, 'LNG is the one you want for range, CNG is best for lower range urban use. We are a sixty million turnover company based out of Liverpool running big mileage across Europe on heavy trucks. We have trialed dual fuel and mixed fuel with limited success. In 2018 we trialled LNG and CNG. It's a true gas truck that seems very robust with output torque matched to Euro 6, compression on gas is almost half of diesel. LNG is the one you want for range. A small challenge is heading off-route to get gas. Fuel saving values has been as high as thirty per-cent gain.'
Jonathan Kenny, Workshop Manager & Mark Bobrowicz Technical & Compliance Officer, Rochdale Borough Council delivered the story of how the authority arrived at electric vehicles. 'We use a lot of small vans where carrying weight is not critical. We had trialled hybrids with little advantage, then saw Nissan on a showcase stand. Asked the questions of charging in the local Nissan 200 dealership. Given a two-week trial, we got team into the van on half-day slots, initial response was negative (don't want to drive a milk float) after driving, the response was very positive, automatic. We tried an extended trial. Wins in environment and sustainability ticked all the boxes. Staff team love the electrics, charge infrastructure was achieved with a council contribution, we have twelve sixteen amps and two thirty two amp fast charger points. We are not having to charge them every evening, we could double our 14 vehicles to 28 on the present charge points. The intention is to keep the vans seven years against historically changing at five years. Heated seats and steering wheel for single occupancy vans appears more economical than conventional heater use in the cold weather.'
David Maidman & Russell Markstein, Commercial Director, Electra Commercial Vehicles, 'Today there are not many electric trucks out there. We supply fully electric vehicles, waste trucks and fridge trailers.' Video showcased refuse fully electric, silent and smooth to drive. 'The case for environment is easy but whole-life operating cost is a challenge, trials in Manchester have proved the wagons can do a day's work, seven hour shifts, two loads, starting with an empty vehicle, lifting 250 containers on an average 50 miles utilising 125 kW. Driver and crew feedback has been very positive. The vehicle is very familiar. Range anxiety soon disappears.'
Session 3: Outside vehicle tour and inside exhibits
A chance to explore the latest range of Euro-6 and alternative fuel trucks on the market for CV operators and chat to vehicle manufacturers about trying them out for your own fleet requirements in the car park vehicle showcase. From cargo bicycle to bus and heavy gas truck.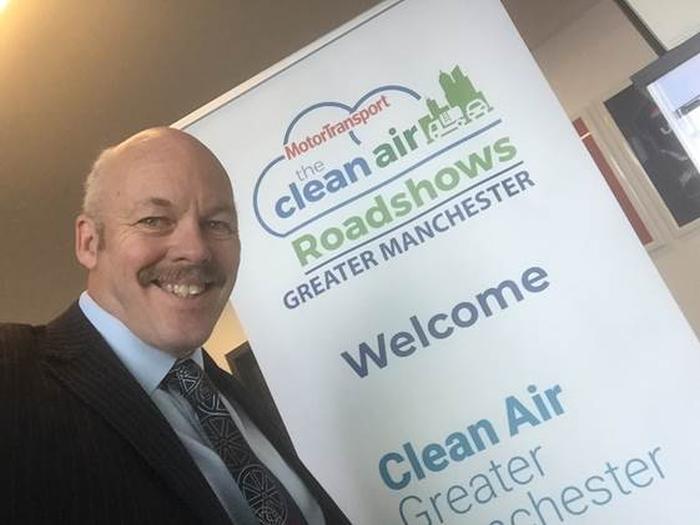 LSA Chairman Carl Lomas MBE in Manchester for Clean Air road show in logistics