On-demand a reality but not carbon-free.
Bonnets up – hands-on reality of EV motors
In the Heartland of logistics hotspot, Heathrow, operators scored where logistics will be in 2025. While the group unanimously believed 5G would be commonplace, no-one believed we would have carbon-free deliveries by 2025.
At the heart of the summit were electric vans, hands-on and available; LDV large van 120-mile solutions to touch and feel with the Nissan small van sat side-by-side for comparison.
Masterclasses from TfL, FORS and GLA followed, alongside operator input and education vision for freight to Express Manager Degree explained with solutions to use your levy tax and build your workforce to the next generation, both from within and at recruitment...
Hands-on LDV electrics at LSA Heathrow event.
In the morning sunshine LDV delivered an electric treat, they placed operators in front of their large panel vans to detail the engine bay with AC and DC systems, battery cooling fluids and driver range. The LSA event at Heathrow was real-world with the hatches open and frank discussion on range and availability right now. Multiple electric vans at hand, large and small. ZE Cargo showcased a Heathrow local-use Nissan EV, bonnets all up for evaluation and the charging explained, even Renault Easy Go and Easy Pro on the big screen to finish the summit.
LSA chair Carl Lomas opened by requesting operators local and national to engage by voting on the vision for logistics in 2025.
The group unanimously agreed on-demand logistics would be commonplace by 2025.
Only half the group believed there would be 30% shift in passenger numbers to public transport.
Three quarters of the group believed HS2 would have routes operational by 2025
But only half the group believed Heathrow runway 3 would be operational in the same timescale.
Fewer than 10% believed drones would have made impact in deliveries.
The whole group believed 5G and mobile internet would be widely active by 2025
In terms of extending lifespan, only half the group believed average age would reach 90 by 2025
No-one believed logistics would be carbon-free by 2025
90% believed city centre emission tariffs would be commonplace by 2025
Looking at qualifications and the stigma of apprenticeships being perceived as second class to graduates, 80 % believed this stigma would be gone by 2025.
An extravagant masterclass followed at the LSA West Thames College Heathrow venue, TfL, FORS, GLA and the vision of the retailer.
Peter Binham TfL talked FORS v5
FORS has grown beyond London, fees were introduced and it became a national scheme. Operators begin with Bronze standard, it's a quality scheme; if an operator fails compliance they are removed. Silver and Gold levels follow for those who want to aim higher. 5000 operators are signed up today, 73% of FORS-accredited operators are outside London. Beyond the UK, those going to the World Cup will be driven in bus and coaches that are FORS Compliant
FORS is a benchmark to operate quality without cost measures. Peter explained the new version five standard starting Feb 2019. Requirements are primarily about safety, new requirements are measured between health and safety to achieve latest environmental standards.
To achieve bronze an operator must monitor items such as AdBlue, fuel and emissions. Moving to silver they must measure data including vehicles, miles and fuel used, analysing CO2. Also for silver there must be further commitment to reduce fuel usage, there must be a champion for FORS identified in the operator's organisation. Professional development is this year's challenge, there must be an e-learning module completed within every two years and drivers must undertake both a safety and an environmental course. There is also an anti-terrorism block of learning on-line that is provided free of charge. FORS Gold requirement, there must be a year-on-year audit to show improvement of energy efficiency. Sustainable operations, the operator is expected to actively investigate next-generation vehicles.
Philippa Ellis GLA
Philippa opened her keynote with London maps on particulate and nitrogen dioxide concentrations. Health and equalities pyramid showed nine thousand deaths a year in London due to poor air quality. New Strategies, May this year, to reduce Londoners' exposure to harmful air and bring air quality within legal limits, meeting World Health Organisation guidelines.
Presently freight counts for a third of all peak traffic on London roads. Freight is therefore contributing to the air quality problem. At the same time customer demand is generating a 'want it now' impact.
ULEZ comes into force April next year; in 2020 this will be expanded to Greater London and to the North/South Circular by 2021. As from this year no more diesel taxis are being registered in London.
Freight EVs in London, a lot of freight vehicles don't do many miles, Philippa then spoke about the Gnewt EV trial and the Nissan NV200 you see outside in the LSA EV vehicle showcase. GLA have measured economy comparisons against diesels in Central London, the trial is funded by OLEV and just had a grant extension for seven further vans to trial, ARUP are working on the telematics and data measures. You can already look at the web for the first year results of the trials at www.london.gov.uk/EV-delivery-trial Year 1 summary results are there as well as reports to date within the Datastore link.
James Billingham LSA, Locking down your levy for Trailblazer delivery.
The challenges of levy, where do apprenticeships fit into freight?. James focused on Freight forwarding around Heathrow. How do the different roles, from drivers to management, in the sector fit into the levy mix of people and skills challenge? Freight, warehouse and fork truck is delivered locally at Feltham by the LSA Logistics Skills centre as is driver CPC. James spoke about content in Driver CPC and addressing skills gaps. We use Aspire Day at West Thames College to take the Heathrow message of logistics jobs to 6000 youngsters each year. There is next generation workforce advice on apprenticeships and the right qualification for both your team and the individuals applying.
Apprenticeships commitment by the gov for three million starts back in 2015; this will not be achieved, but new apprenticeships standards are growing in number, over 350 today. James spoke about levy, a tax that large employers can use, channelled through the digital apprenticeship service.
James showcased the stairway map of professional development, finding where each level fits, in the three streams of LGV, Warehouse & Storage and Express. James went on to talk about the approved standards, taking a close look at freight forwarding, It began via employer groups in 2016, employers were hosted by the LSA to look at format and content. DPD were the first national enrolment to freight forwarding.
Knowledge Skills and behaviours are at the heart of the new apprenticeships. A big change from the World of NVQs is the end-point assessment, the new standards will finish via a gateway that steps the candidate into an end-point assessment that will measure and grade the candidate.
LSA delivery is unique in looking at what works in your workplace. For freight forwarding, do you look at imports and exports? Both or one side of the transit, LSA have looked at export-only environments and then added the BIFA training programme to give simulation learning in the technical wish-list outside the normal workplace.
Myths in reviewing apprenticeships, 'Are they only for young people? No, this is a myth. It is common to look at existing staff and upgrade their existing skills. Do apprentices have to spend time at college? No, it may be blended learning, learning may be in the workplace, on line or by distance access.
James delivered Top employer Tips for apprenticeships, Have a plan, where do apprentices fit within your business? Who owns the apprenticeship in your business?, will you measure success by retention or by recruitment? There will be off-the-job learning, twenty per cent, this may be mentoring or technical training off the job. Finally, be sure to select the right training provider and make them part of your own HR team.
Matt Snowden, University of West London – the degree apprenticeship for Express Logistics.
Where do we get the next managers for logistics from? Apprenticeships are a solution, apprenticeships are not just about recruitment, it's funded by the levy. Apprenticeship was focused on L2 to L4, today it goes all the way to L7 at Masters. The position has moved to higher levels. The new standards are employer-led, full of content with employer wish-lists of what is needed for the job, having tools to do the job. Manger CPC and FORS Practitioner materials in the content. The end-point assessment involves you as an employer.
The employer challenge is how to best use your monthly levy fee.
Matt talked about the supply chain leadership degree qualification and the transport planner qualification. Focusing on the Express manager degree. This can use as much as twenty five £K of levy funding with each candidate. A group of employers from APC to Yodel have worked with logistics hot spot Universities including Derby and West London.
The Express degree will be about learning in the sector and having a positive impact on your business. The University is only a point in the apprenticeship, there will be a degree in the middle but the end-point assessment after gateway will dovetail real world assessments with your business. West London will build your real world workplace into our assessments.
How do you compare a full time degree, three years with an apprenticeship degree of the same length? The apprenticeship is far more than two semesters, work role will be part of the learning. Funding sits around £25k so the degree for managers is a strong use of your levy account. Today the Express Manager standards are published and we should be in place to deliver this new manager qualification by Spring 2019.
Skills behaviours and competences are well listed in the standard and very employer-driven, the process of delivery will not be day release, that's not going to work in Express, we will be delivering block release models to fit outside of peak period sector delivery. The degree in the apprenticeship programme will be of identical value to our graduates, this will drive apprenticeship value in the UK workplace. There will power and value in the express manager apprenticeship model, both a degree and an apprenticeship with on job learning. End-point assessment will be based on the presentation of portfolio and project.
Richard Scarlett John Lewis Partnership
My responsibility is for how we move product; between branches or to clients, both UK and overseas.
Richard delivered a broad perspective of doing the right thing in logistics. Community aspect is a focus, this comes from our constitution. The John Lewis constitution is a rule book for operating. Richard explained John Lewis and Waitrose, the different values, 86,000 partners in the business. What is the investment and what is the cash flow for doing the right thing?
At LoCITY I spoke about the cost of electric vehicles and the difficulty of introducing a vehicle just for London. The investment for us is about the suppliers working together to provide an EV solution. We look at people and community together to judge the right thing to do for clean air in freight challenge. We must balance the whole supply chain. Feed the passion for clean air through the whole business.
Richard explained operators selling, fleet and services need to connect with John Lewis values and ethics for community, We are interested in ethical standards, green future and labour standards fall within our ethics requirement. Service must deliver for our customers. If an EV restricts delivery through range or capital cost and fails our customers then the proposition is not a match. Cost must fit within the tight margins in the retail sector. Come to us with vision and innovation on clean air freight delivery.
Winston Gordon ZE Cargo, finished with the reality of EV use local to Heathrow.
Founder of a vision for clean air in Heathrow, Winston started via a food charity footprint delivering between wholesalers and local foodbanks using large diesel vans, typically travelling just thirty miles a day. The fuel pollution seemed outside the ethics of the charity.
'In ZE Cargo I am experimenting with the Nissan EV, very much a Nissan LEAF with a panel van bolted on, one hundred per-cent electric, I am looking for electricity at base to be ethically delivered and not coal-generated. The van has been excellent for out of hours with no sound pollution from the motor. Rapid charging in thirty to forty minutes, deliveries have been completed as far as Lincoln but charging is a challenge as the miles go up, my real focus lies within the M25. Partnerships for future of delivery in London appears the new direction for delivery.'
Winston asked the date - 8th April 2019. 'It's the deadline for ULEZ – There seems very little knowledge of ULEZ, it's time to wake up.' ULEZ is coming. Winston spoke passionately about how close ULEZ was and by 2021 it will be the north and south circular footprint. Operators need to recognise how close ULEZ is, cost of four pounds fifty a car per day and congestion charge making over a hundred pounds a week. I frequently hear there are not enough charge points in London. Winston showcased a map of charge points, over six thousand points nationally, you need to know where to look, 'charge points are growing weekly.'
Winston finished with 'fully charged video' A last mile delivery vehicle, autonomous, the Renault concept of autonomous, easy go, easy pro, with a removable pod. Joint purpose vehicles, coffee shop one side, Amazon collection on the other side. Pods for delivery and coffee, the driver will become a concierge, a driver doing other work while doing deliveries.
Photo Gallery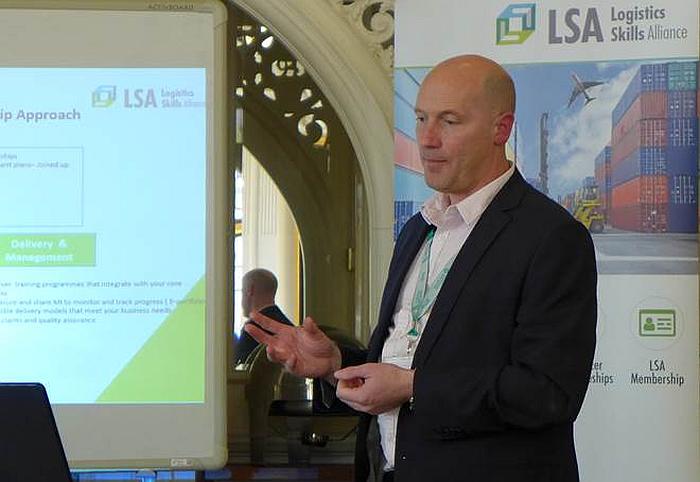 James Billingham talks 'Levy Lockdown interviews' for your apprenticeship tax success.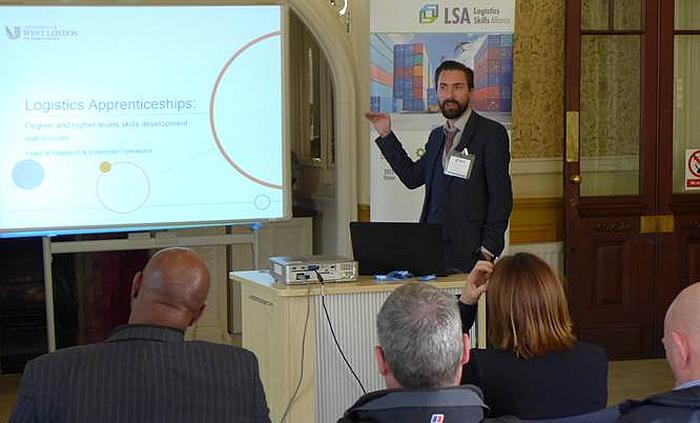 Matt Snowden, University of West London, explains the new Express manager Degree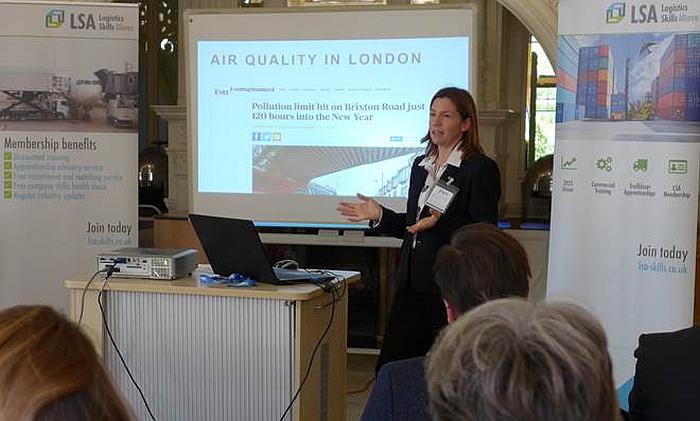 Philippa Ellis GLA talks clean air for London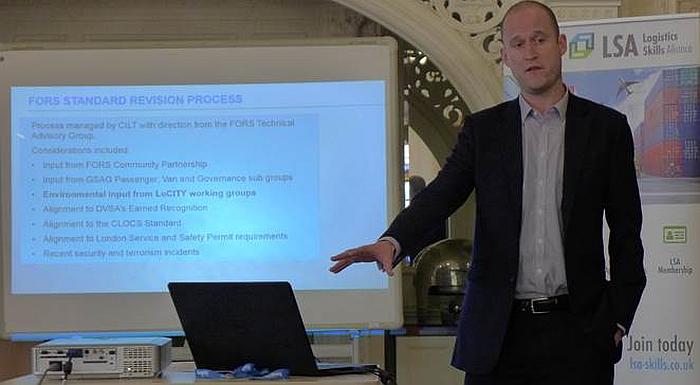 Peter Binham TfL explains FORS V5, Bronze Silver and Gold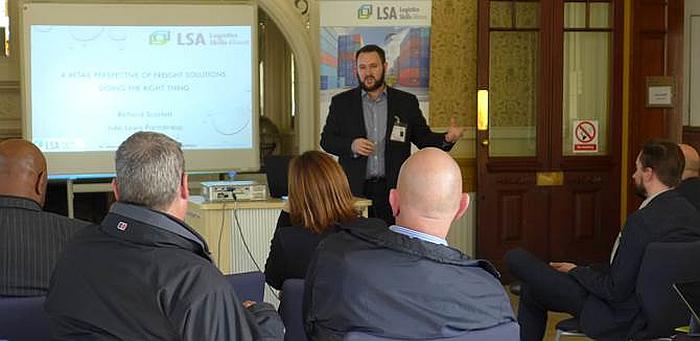 Richard Scarlett – A retail perspective 'doing the right thing in logistics.'