Logistics Skills Alliance post-deadline solution for Driver CPC
With one week to go, it's time to be sure your drivers, whether PAYE, self employed, franchises or sub-contractors, are all sorted for the driver CPC deadline next week on Sept 8th.
It's compliance: drivers must have completed their five days in the last five years. It's not too late, but it is the very last moment to act. It's a September 8th deadline; you must not let your drivers or sub-contractors be forced off the road when diaries don't fit at this last minute.
LSA have the last-minute option for your Driver CPC
LSA senior DCPC trainer, Ian Johnson explains,
LSA will be sorting a 'follow-on week' option for those drivers not compliant. Drivers without their CPC will be forced off the road on Sept 8th; they need thirty five hours of official training completed in the five year cycle and the deadline is racing towards us. LSA will have full week opportunities for drivers who did not complete the compulsory training in the two-week period following Sept 9th.
Get your drivers sorted in the post-Sept deadline
To book your place on one of the post-deadline courses ring Ian on 0208 818 6885
If you have any questions about the courses, please This email address is being protected from spambots. You need JavaScript enabled to view it.
All courses are £100 per day.
"Repeating old courses is a waste of driver time and money"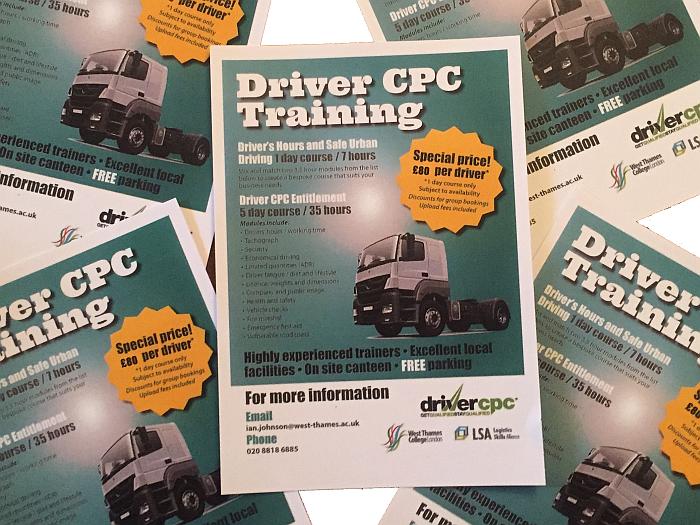 Truck, bus or coach 'drivers must have completed 35 hours of periodic training in the last five years.
Ian Johnson Logistics Skills Alliance,
All your professional drivers – operating a truck, bus, or coach – must complete 35 hours of periodic training every five years, in order to keep their Driver Certificate of Professional Competence (DCPC).
This deadline is fast approaching, it will be the second five-year block of training for drivers. At LSA we have a high quality block of five one day courses, the day charge rate has been set competitively at eighty pounds and will be delivered at our dedicated logistics sites, Feltham will focus on the Heathrow hot spot of logistics. Its really important for you to get value for money and good syllabus coverage to build skills of your drivers, repeating old courses is a waste of driver time and money.
Ian explains,
If drivers miss their deadline, they cannot drive professionally until they have completed their training and can be fined up to £1,000. The driver's five year administrative expiry date is displayed on the front of the Driver Qualification Card under 4b. If you are unsure how many hours of Driver CPC training your drivers have completed, or which course they have attended, you can check on the GOV.UK website. However, your drivers will need to set you up with a password so you can view their record.
At LSA we can help you with a review of where your drivers are at, we can deliver all the course blocks they need, we can even edit material to fit your working patterns.
The Logistics Skills Alliance is an RTITB Master Driver CPC Consortium member. This enables us to: • Access over 36 accredited , high quality, interactive Driver CPC modules (3.5 hours each) of LGV and PCV courses • Mix and match modules that are most relevant for your business • Approach training in a flexible way, delivering at times and places that are convenient to you (including weekends), at a network of training centres or at customer sites.
CPC stands for Certificate of Professional Competence. Under EU Directive 2003/59 all professional LGV and PCV drivers must have this certification.
Driver CPC is periodic training designed to complement the individual driver's work and be relevant to their job. Drivers receive their Driver Qualification Card (DQC) once they have completed 35 hours of periodic training.
All professional drivers must complete a total of 35 hours of periodic training every 5 years following their 'acquired rights' or initial qualification to keep their Driver CPC valid.
Download the factsheet for full details.
Course details
The Driver CPC (Certificate of Professional Competence) is for drivers of passenger carrying vehicles (PCV) and drivers of large goods vehicles (LGV) who drive professionally throughout the UK and the rest of Europe.
It is a legal requirement to complete periodic CPC training of 35 hours (5 days) every 5 years and this can take place however you choose i.e., 1 day per year or 5 days in a week.