LSA reported Live web postings at Freight in the City Expo from Ally Pally with a view of London cloaked in poor air.
The London trade show for next-generation delivery with clean air, it was not just technology and fuel, consolidation and training is at the heart of clean air solutions, driving skills to save fuel, driving skills for new technologies, driving gas, electric or hybrid, the driver needs training to get the best from their delivery vehicle.
The third annual Freight in the City Expo started true to transport with a bacon butty breakfast at the Ally Pally, North London former BBC site with views across London and the reality of a City with air quality issues. The LSA were on the show floor with stand space to talk solutions from a training perspective.
The Ally Pally Freight in the City Expo moved into the Great Hall as more vehicles, equipment and technology were on showcase to make urban deliveries cleaner, safer and quieter. Alongside this, a packed seminar programme opening with Venn Chesterton from TRL and Express key notes from operators, Gnewt, Sam Clarke and CitySprint Ali Kagalwalla.
Industry speakers focused on exploring practical examples of sustainable city logistics operations from around the world.
This year Freight in the City hosted Transport for London's LoCITY progress event. LoCITY aims to increase understanding and uptake of low emission commercial vehicles. Focus streams separate into heavy & light vehicles. One and a half million commercial vehicles moving freight, e-retail has brought a third of those vehicles into the light vehicle sector focused on home and work place delivery of packages. Vans are predominant in London's peak hour congestion.
LoCity Light vehicle chair, Carl Lomas explains the two key issues facing operators in the electric-centric alternative fuel van market, 'Infratstructure and finding charging is top of the list, the second reality is we have two different needs for charging, vehicles operated from a hub working set routes, then the bigger challenge of how to charge vehicles operating from a driver's home, these drivers often have no off street parking and work sporadic routes unknown in the exploding next day, same day market.'
The trade side of Freight in the City grows, supported by Mercedes-Benz Trucks and Fuso Canter, the free-to-attend event was the ideal opportunity to not only discover the latest urban delivery equipment, but also to network and make important new connections from multiple cities.
Bacon Butty breakfast polished it was time to find standing room only in the lecture seminar.
Broadcaster Simon Jack opened to Venn Chesterton, former TRL Venn is Innovate UK leading on Ultra low emission vehicles ULEVs,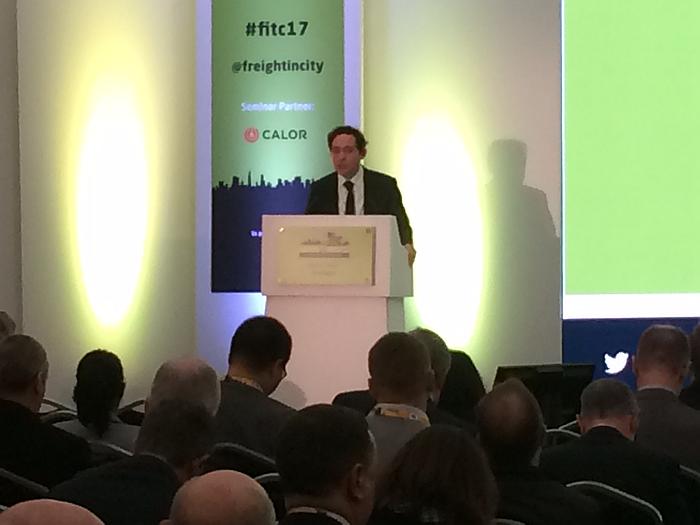 Simon Jack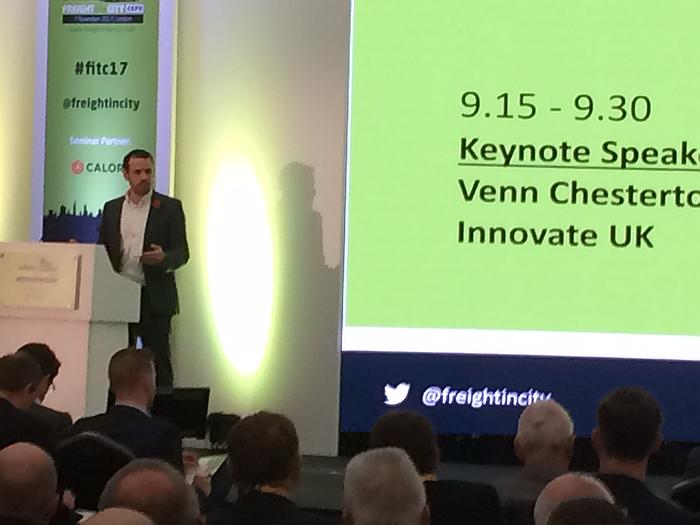 Venn Chesterton, Innovate UK
Session one with big keynotes followed the bacon butty breakfast.
How is the freight and logistics sector adapting to future city requirements? What technology is being developed today for urban deliveries of the future? We learn about some exciting, collaborative projects being supported by Innovate UK to bring new technology to the freight and logistics industry.
Speaker, Sam Clarke, co-Director, Gnewt Cargo, Institute of Couriers chairman of the electric vehicle group - Gnewt Cargo is working in partnership with the Greater London Authority to trial a first-of-its-kind deployment of larger, zero-emission vans for last-mile deliveries in the capital.
Speaker: Neil Herron, CEO and founder, Grid Smarter Cities - Find out how local authorities and operators are trialling a new virtual loading bay system to help improve congestion, encourage cleaner freight vehicles and reduce PCN costs.
Speaker: Matt Key, Chief of Business Development, Arrival - The Robopilot project aims to bring autonomous racing technology to the light commercial vehicle market, combing sensors around the vehicle with mapping, AI and fleet information to improve safety.
Speaker: Paul Blacklock, Head of Strategy and Corporate Affairs, Calor Gas - Calor Gas is working collaboratively to develop and trial a new 16-tonne electric truck with low-emission range-extended capability.

Neil Herron - Grid Smarter Cities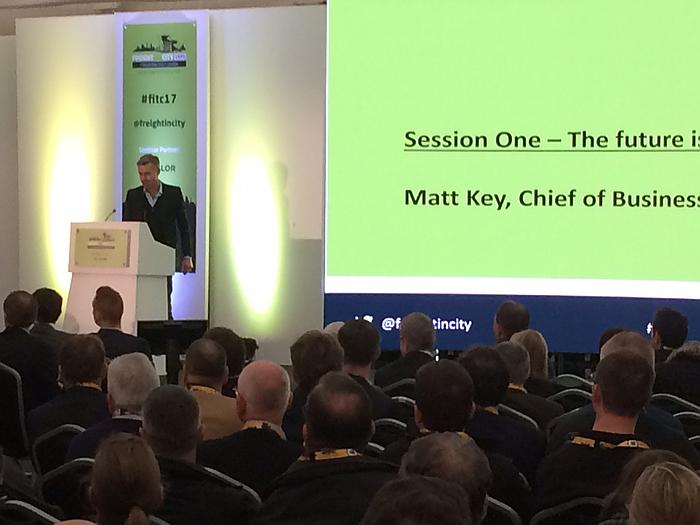 Matt Key - a balance of convention and overpricing makes electric vehicles niche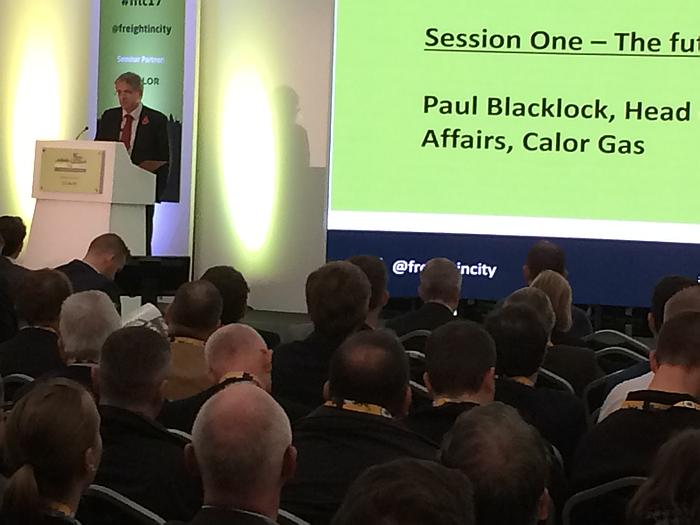 Paul Blacklock, Calor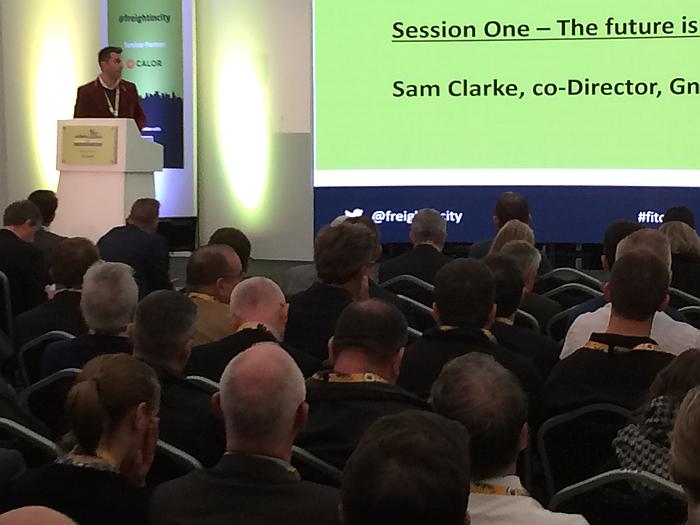 Sam Clarke - Gnewt Cargo - Menzies Distribution
Session Two - LoCITY annual progress review
Transport for London updated delegates on the latest air quality strategies in the capital, and show the progress made across its LoCITY working groups in helping the freight sector transition to ultra-low-emission commercial vehicles. Topics include:
Speaker: Alex Williams, Director of City Planning, Transport for London - Mayor of London's Draft Transport Strategy and London's Ultra Low Emission Zone – what these mean for commercial vehicle operators.
Alex Williams - Director of City Planning at TfL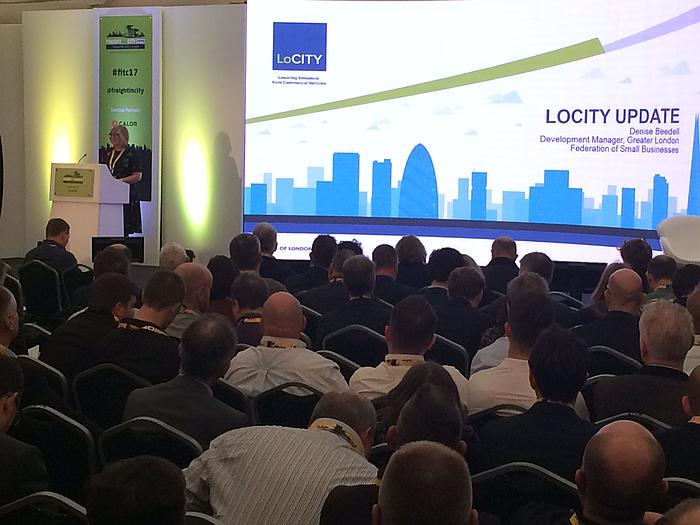 Denise Beedell - Federation of Small Businesses
Session Three – Back from lunch for Freight expectations
Speaker: Jim Chappell, Freight and Fleet Lead, TRL - TRL explores how a growing trend towards greater visibility of freight movements will see new business models adopted for urban deliveries, Jim looked at the role that market disrupter technology, such as autonomous vehicles, might play in shaping the future.
The big debate… Tim Ward TfL and Ali Kagalwalla CitySprint:-
Direct Vision Standard for trucks
Greater consolidation of loads
City diesel bans
Future fuels
Consolidation that works
The role of autonomous delivery vehicles
Beating congestion
Road charging

Session Four – closing the day with a theme on Safe and secure
The session looked at some of the key security and safety issues affecting hauliers operating in an urban environment.
Speaker: Matt Hague, Executive Director – Product Strategy, Microlise - Effective harnessing of big data has significant potential to help fleet operators boost safety in urban environments, from predictive analytics for vehicle health, through to real-time risk assessments of busy, city routes.
Speaker: Sergeant Wayne Watling, Metropolitan Police Commercial Vehicle Unit - In the wake of recent terrorism activity involving the use of vans and lorries, the Metropolitan Police will share some of the vital security measures in force around HGV operating centres, and provide essential guidance for fleet managers and drivers.
LSA at the Trade Show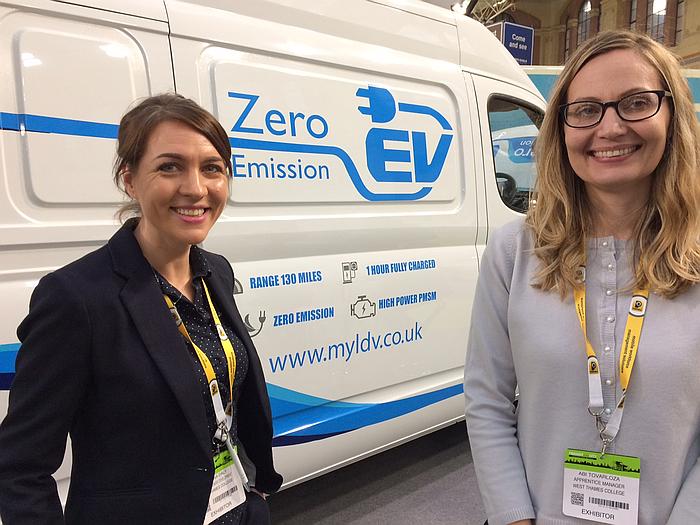 Head of Business Development West Thames College, Joanna Daly and West Thames' LSA Apprenticeship Manager Abi Tovarloza