TfL LoCITY a positive lens on clean air final mile for LoCITY.
Big van-operator turnout from GLH to Addison Lee. Understanding climate change opportunities for vans was top of the networking best-practice discussions as police helicopters buzzed above the roof for the TfL LoCITY light vehicle group.
Operators turned out in force for the October meeting on the multi-coloured chairs of the tenth floor of Broadway in St James. Tubes quiet and roads closed as extinction demonstrators flooded into Parliament Sq.
Emerging second-hand EV values were high on the discussion agenda as were standards for electric batteries; VHS or Betamax?
Lomas then spoke as TfL LoCITY chair,
Ford plug-in hybrid petrol Transit adverts on the TV. Renault Master under trial with Whistl. Availability on the van front is clearly changing.
Lomas took a recap on the key issue of the LoCITY van group - infrastructure charging; the variation of challenges between charging vans at depot and charging vans roadside for owner-drivers. The problem of finding charge when no off-street parking is available to the SME final mile operator.
Scrappage was on the agenda, but findings so far are that the three thousand pound offer falls far short of a typical existing Euro 5 Transit working in the final mile - that values in excess of more than twice the scrappage deal.
The LoCITY event has become a hothouse for top-level networking between operators and vehicle manufacturers with talk of availability and van trials. The October meeting was no different; we capture the headlines of the discussions for you.
Members' discussions
Engaging on global issues for clean air, local and worldwide.
Battery standards for the future, VHS or Betamax?
Who is holding the bat? Operators, manufacturers, Charging companies?
Second-hand EV market values and diesel retention values.
Charging & range, depot electrification, telematics and charge status
Uniformity of UK clean air zone compliance & the interim Brexit compliance.
Vehicle supply & availability, dual-fuel vehicles, not just electric.
Miles covered & range anxiety reality
Recruiting a new breed of drivers, a calibre for clean air.
Charging and infastructure
Making the business case for city centre low mileage EVs
Scrappage scheme numbers
The alternative options, light vehicle L1 to L3, cycle and cargo cycle
LoCITY update 'focus on owner driver SMEs' Olly Drasar & Tim Sider.
Olly introduced the new team for LoCITY and repeated the message of the Mayor for clean air. Olly talked about suitable vehicles and cost profile.
I am looking to learn from the group and the experts here today. We are updating our web for LoCITY. I am really keen to engage with the strength of networking in this group. We are about freight, we are keen to understand the variations between owner-drivers, micro SMEs and the large nationals. There is a big gap of challenge and understanding between the two groups. I am keen to understand the SME views where their management may not have breadth across fleet management. How do we spread the message as one body of people working to clean air, ULEZ and zero emission? There is a hunger for information beyond the converted and we want the LoCITY group to bridge the knowledge gaps. Are vehicles available? What model availability is in the marketplace? Is the circle working?
Tim talked on the electric vehicle infrastructure plan.
Questions from the floor focused on steps beyond ULEZ and dealing with Euro 6, how long will Euro 6 last in terms of compliance? How to set forward planning for alternative fuel success?
Gnewt & Voltia Sam Clarke (Gnewt) & Silvester Pullman (Voltia)
Sam Clarke, 'Bigger vans, less congestion.'
'You need two-way knowledge on vehicle charge state.'
Sam Clarke,
Ten years in electric van final mile, Gnewt is part of Menzies and we are taking the word into the larger fleet. We have delivered over ten million parcels zero emission electric with Gnewt in London.
Sam talked understanding in real time where vehicles are going and how far the drivers are walking to make final mile deliveries. Vans in the West End have been tracked travelling 5 miles in a working day with drivers walking six miles to complete the deliveries.
Working with GLA we are trying to make small vehicles larger and complete more deliveries with less congestion. Bigger vans; less congestion. Porters are the solution; one van and five porters getting lots of parcels to final mile with significantly fewer vans on the road.
EV charging at scale, adding a lot of vehicles puts a lot of pressure on the grid, the answer is replicating smart charging with nearly done top-up charging. You need to understand what charge is in each electric vehicle in our fleet, you need two-way knowledge on vehicle energy.
Silvester Pullman Voltia,
'We are producing fifteen hundred EV vans a year'
'We can deliver before Christmas.'
'Negotiate your EV lease – clarity on detail such as no oil-change costs.'
Silvester Pullman,
We are a Slovakia company pioneering electric mobility since 2011. We have built our own charging infrastructure in various European countries. We then realised there is a very limited availability of electric vans. We took the Nissan NV200 as it was very reliable and made it bigger. We are looking at a twelve week lead time to delivery to you. We are producing fifteen hundred a year today.
You must educate your drivers, there is a lot of propaganda that electric is evil because of batteries; you must explain the benefits, costs and savings to clean air.
We often negotiate the lease purchase; it's important to ask your own lease company to recognise EV, the obvious cost exemptions, EV has no oil-change to cost in. You need to check the small print detail to see it is EV real. On the warranty, you have eight year guarantees on the batteries, that's two years past a regular six year lease.
Alternative Fuels for Vans - Fergus Worthy (Cenex)
Fergus Worthy speaking to LoCITY
Let's talk BEHVs, PHEVs and EREVs. To comply with regulation, it's better for local environment, better for global environment, better for business.. Three areas to consider:operational, financial, environmental.
Operational, the vehicle needs to meet your requirements, the businsess mileage and driver commute, the infrastructure for fuel & the payload for delivery. Financial, key is the whole life cost, do you have the upfront cost and funding mechanisms. Environmental, speaks for itself on an electric win.
Fergus talked on the detail of the terms BEVs PHEVs and EREVs - Battery Electric Vehicles, Plug-in Hybrid EVs and Extended Range Electric Vehicles.
Explaining allowance in weight of batteries for licence category. Looking at infrastructure, there is not a charge point every-where but they are growing. Looking at cost performance, a case study for 15,000 miles a year on small panel vans over five years, not coming into congestion charge the saving is ten per cent. Entering congestion charge-ULEZ the win can be fifty per cent on whole life cost for an electric van.
Fergus closed with the OLEV plug-in grant deal, up to eight thousand allowance and then finished with the improving residual values for EV vehicles.
Next steps are in the email links below.
Cenex / LowCVP Low Emission Van Guide: www.lowcvp.org.uk
Grants and Incentives: www.gov.uk search OLEV
Charging Infrastructure: www.zap-map.com and www.ukevse.org.uk
Help and Support: www.cenex.co.uk or email This email address is being protected from spambots. You need JavaScript enabled to view it.
National Grid update - Laura Rainey
'54 sites, minimum viable product for charge stations to enable mass uptake.
Laura Rainey,
Enabling a national grid rapid-charging solution, we are looking to be active across all weights of vehicles, we operate across the motorway network and deliver gas as well as electricity. Electric vehicles can unlock greater renewable utilisation, charging infrastructure is a key enabler for mass uptake. In terms of en-route charging and dealing with range anxiety our solution is 50kW need. What are we aiming for and what is enough? To drive in the UK on the arterial network looks like a need for 50 mile range, that takes 54 sites in the UK. It's not the full solution, but a minimum viable product for mass uptake. Presently 166 service sites on the motorway – main road presently. The challenge for us in the energy centre is working out what needs to be in place at the right time. OLEV have launched Project Rapid - be ready to contribute to the consultation in the next three to six months.
Van scrappage Catherine Westoby (TfL)
'Is there a hurdle of value between second-hand vans and scrappage?'
A quick update on the scrappage scheme. ULEZ started April this year, over 75% compliance today. Van scrappage scheme was launched with the aim for SME micro business, set at £3k to scrap a non-compliant or £6k to upgrade to an EV. We are soon to launch a further means-tested scheme. My question is do we need a scrappage scheme? We have been tweaking the existing scheme, four million spent so far over 1500 hundred applications helping over four hundred businesses.
There was much floor discussion on eligibility, availability for applicants to purchase new vehicles, is there a hurdle of value of vans for vans?'
Stephen Latham (NFDA)
Electric Vehicle Approved (EVA) '28 dealers on board so far.'
Stephen Latham,
Looking at the history, technical improvements in fuel injection and Govt encouragement on fuel duties brought strong diesel numbers. Today we see building clean air zones UK-wide - from Leeds to Birmingham and Bristol. We need unity and clear understanding, we need a view on the evolving vehicle categories, plug-in hybrid to electric-only; they are very different.
The current state of the market - not all manufacturers are in the market and those that are have been caught with speed of change to alternative fuel and availability of vehicles and the knowledge and understanding delivered through the dealerships. Applying an electric vehicle approval audit to a dealership near you, we have a web to signpost you to an approved EV dealership. The dealership must have an accessible charge point, be able to highlight best practice and identify common issues with trained staff in sales and engineering roles.
LSA Photo Gallery for the October LoCITY Van group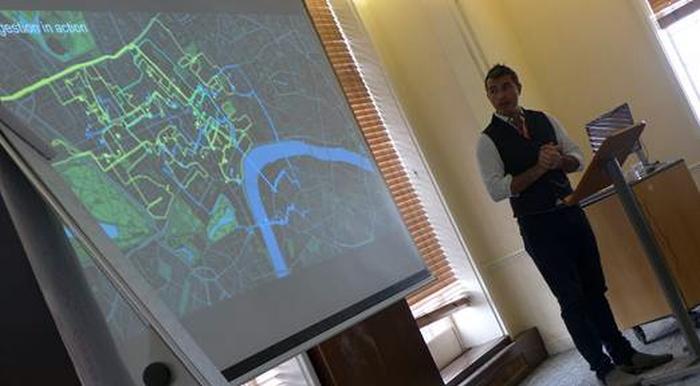 Sam Clarke Gnewt Menzies talks ten years of zero emission van final mile.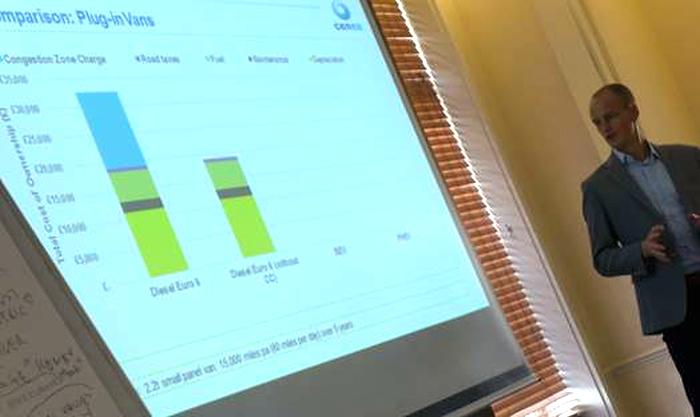 Fergus Worthy CENEX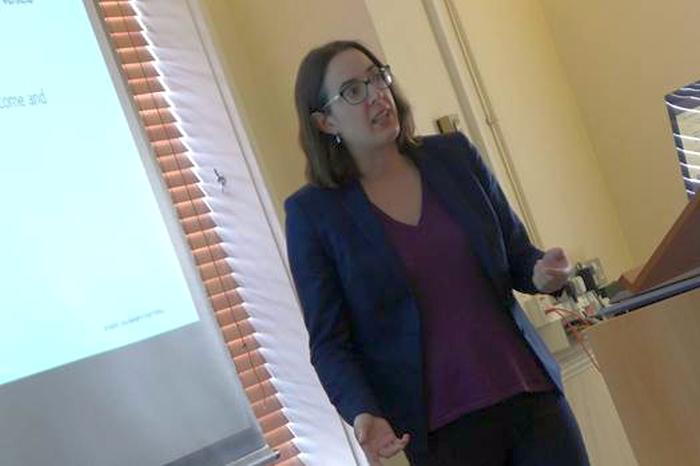 Van scrappage Catherine Westoby (TfL) 'Is there a hurdle of value between second hand vans and scrappage?