Our next generation workforce in Logistics
Strategic transport apprenticeship taskforce diversity event
86 logistics employers in the room.
'Inclusion of workforce for logistics in a modern business'
Apprenticehips at the heart of it. Logistics Skills Alliance were at Portcullis House, a hot house of diverse workforce leaders in logistics, rich in operators, apprentices and next generation, it was an exchange of best practice with reception sponsored by Jacqui O'Donovan. Employers from CitySprint to eCourier, Wincanton to Kuehne & Nagel.
Mike Brown, STAT chair,
We are seeing good progress in the increase of diversity and inclusion; it is really important that we understand apprentices' experiences and act on them to keep on making progress.
Tracey Worth - 'Diversity, What one thing can you do?' Sign the pledge!
IOC Tracey Worth chairs diversity for DfT STAT group, the strategic transport apprenticeship taskforce.
We must tackle the lack of diversity in our sector, our task is to raise awareness, encourage a new demographic, build an alliance, I ask you to sign our pledge today.
Phil Martin DfT Head of Freight Policy
We know from research that companies with more diverse workforces outperform their rivals and are more profitable. It's time for transport and logistics to unlock that potential.
LSA brings you the four key speakers' words.
Kate Lester Diamond Logistics, 'At Diamond, Diversity starts with equality, it's about contribution.'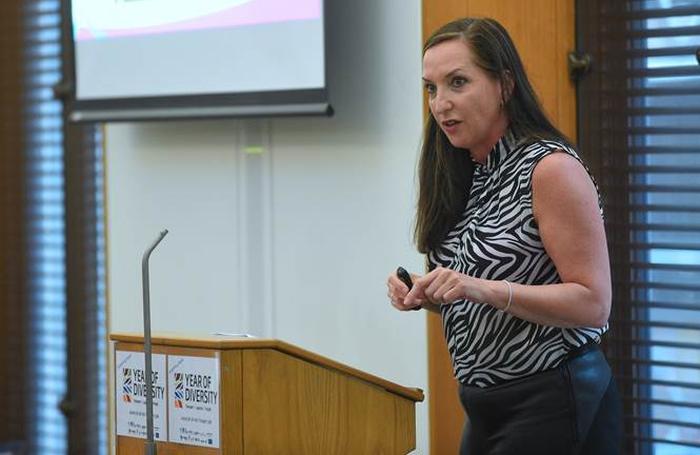 Kate Lester - 'Over twenty seven years ago I joined the logistics world, it was an old school boys club.' Where does that leave us? Kate talked middle-aged white male boards in logistics. Only 24% of our sector is female, Team Diamond has parity of numbers in gender count, a majority female board. Age is no barrier in our business, parenthood does not inhibit ability to work with us, it's about contribution. Our core value, people at our heart. Diamond delivers, values of shared success, a company to work with, trust and belong to. We enable our team to fulfil their own ambitions, at Diamond diversity starts with equality. It's about future-proofing your business, recruiting the best. Logistics is not a sector people dream of joining. If your business is fun and inspiring then you can massively expand the team and build growth. Live equality, breathe it, mean it. Equality is good for business.
Alistair Cochrane Whistl - 'Diversity is about what you have, Inclusion is about what you do.'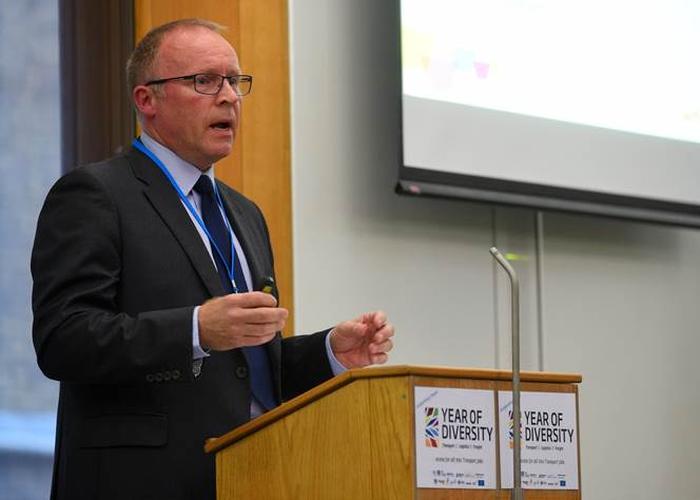 Alistair Cochrane - The one thing to capture is inviting diversity to the party, inclusion is being asked to dance. - 'What is diversity? Race, sexual orientation, social class, ethical values, national origin, political beliefs.' Fostering breadth in diversity is about encompassing the companies true potential.' 'Inclusion is about welcoming diversity, Inclusion is about what you do.' Looking at Whistl, 1751 staff, 38 Nationalities, 37% female. Operational roles have a high percentage of EU Nationals. Data is still the biggest challenge to determine other demographics. Whistl are members of the disability confident scheme. The scheme offers guidance and assistance. Whistl had our first mental health week this year, we are not hiding mental health, we are taking it out with communication to the workforce. Whistl are out there and talking the talk, one thing to take away today, establish belonging, a top-down approach, quotas don't automate inclusion, minimise fear, maximise joy.
Mark Lomas HS2 – 'We are running fast out of talent. Diversity is about sustaining the cycle'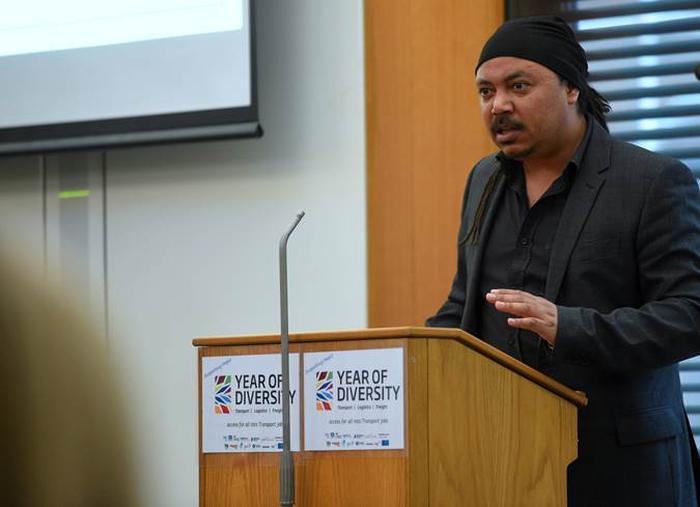 Mark Lomas, HS2. Research shows a diverse workforce makes a company more profitable, research shows inclusive work sites are safer. Arrive to find a site safety notice in English, the person who speaks the best English translates for the next person, who then waterfalls that translation to others. HS2 employs thousands of people up and down the UK, but it's also the businesses we work with. Looking at career choices, construction and rail is low on the desire list of young talent. How did we get there? We face a situation where the workforce is ageing and leaving, we don't have replacements. We are running fast out of talent. Diversity is about sustaining the cycle. Lets talk women in construction, we did a survey, the number one reason for not returning to the sector was not finding a role flexible enough. HS2 are working on flexibility, construction sites work in shift patterns. Let me finish on, 'Don't leave it, you will be left behind.'
Claire Piotrowski and placement student, Rasa Savickaite, Kuehne & Nagel - We need to work externally to attract the next generation of talent to join us.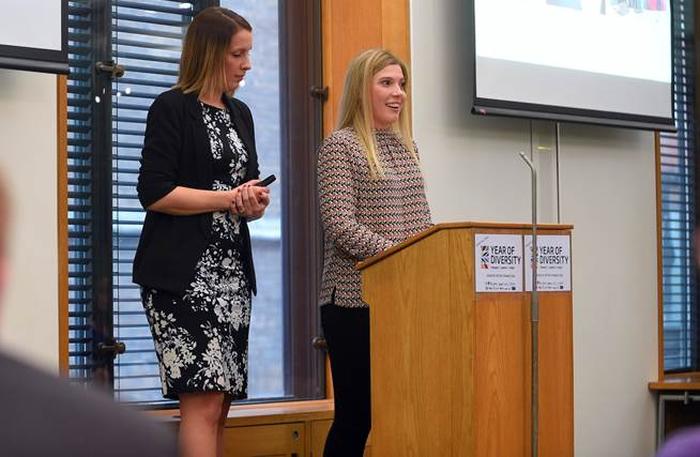 Kuehne & Nagel have over 80 thousand global employees, but we don't have all the answers, I want to talk growing in strength. Right person in the right place at the right time to make the right contribution. We are facing a reducing workforce, lowest unemployment since 1975. Immigration slowed, UK birth rates down. At K&N we have internships, apprenticeships and partnerships, working with DWP and Novus. Finding routes of new engagement. Claire talked board game, 'Business on the Move,' bringing the sector to life for younger individuals. It helps explain what we do in logistics. Rasa, a supply chain student undergrad approaching her third year. 'I joined for the opportunity, strong support, a great mentor, I benefit from great networking events like this one today.'
Tracey Worth – Logistics - Who are we and what do we do?
Today is about taking away and doing that one thing, start your journey today, sign the pledge commitment board for diversity today, here before you leave. Placing 86 employer commitments here today.
Tracey explained, this is the DfT STAT Year of Diversity for logistics and transport. 'STAT is a voluntary, cross-sector industry body that has been given the responsibility for promoting awareness and access to apprenticeships, sector diversity and promoting transport as a career.' Today you are asked to sign a pledge and help build a toolkit for the future of inclusion in our sector.
Our aim for the Year of Diversity is:
o To create a network of transport people who are committed to tackling the lack of diversity within sector
o Create a culture where diversity is celebrated, and inclusion is the standard
o To raise awareness of the practices and activities organisations can engage in to increase diversity
o To encourage new demographics of employees to join the sector
o To build a cross-sector alliance of employers who have signed the pledge and will act of agents of change in the industry
o To implement and share learnings industry-wide
Tracey Worth, 'Adding value to your logistics company with inclusion of workforce. Think millennials and your next generation workforce, diversity & inclusion is cultural changing and makes your future workforce.' Key points for you to take away - Ask your workshops to make D&I a pathway for your logistics workforce success. 'Creating ambition in freight workforce. Understanding representation, mirroring society, staff retention. Do one thing and champion diversity in your business.' All hot topics.