LSA walk the blue carpets of Microlise at the Ricoh Coventry Arena to bring you an exclusive freight photo tour.
Double Special - LSA bring you keynote summary for Amazon, Google and Penning.
Logistics Skills Alliance were in Coventry this week for the largest freight logistics conference in Europe. Not just a conference but a focused tech exhibition too, adding up to a logistics diary with the national freight driver awards.
LSA chair, Carl Lomas got the selfie at the front door on the way into a unique event; take a look at his summary of the keynotes below.
A packed audience, every seat full and more standing at the sides of the blue carpet for the UK's top freight conference at the Ricoh Arena, Coventry.
Keynotes
-Andreas Marschner VP Amazon, Risk of delays reduced in the' reducing touches' approach for client chain to customer.
-Dr Jonathan Keating 'Growth of e-commerce is influencing the vehicles on our roads today.' A better understand to people's purchase behaviour is key.'
-Paul Strong, Google Cloud, talked 'Just in time everything'.
-Sir Mike Penning talks all-party freight group.
A blue screen countdown, Quentin Wilson opened the centre stage.
Today is all about positive energy.' Brexit video, impact on the industry, the future of the industry, big data, final mile, the 2019 Microlise Confernce. Quentin, 'A year on year increasing audience, what a year, Trump, tariff wars, a UK govt in crisis, could things be more unstable? But here we are, still filling all those shelves, you are one of the most determined sectors I know, delivering the UK freight, a stellar line-up of presenters today for you. Get interactive, use your phones, ask questions.
Opening answers from a two thousand strong audience with standing room only, skills shortage is key industry challenge, investment this year is optimisation software. This was a year of unprecedented interaction with the largest number of phone questions ever.
The Keynote presentations
Andreas Marschner VP Amazon
Physical flow, E-commerce and Transportation.
We at Amazon talk physical flow, to be Earth's most customer-centric company. Growth and keeping customer promise. More sellers, more traffic, different ways to innovate the business. Customer pays less.
85 thousand employees in the UK, $27bn invested since 2010. 27 corporate offices, 40 fulfilment centres. 9 languages. Close to a million businesses selling. 50% of sales on Amazon by third-party sellers. UK £2.5 Billion of exports.
UK has a very high share of cross-border traffic across Europe; we run a pan-European network. First mile, middle mile, last mile. The Amazon logistics value chain. Middle mile connecting warehouse to final mile. A key piece to speed is minimising the number of touches. Fulfilment to integrated logistics provider, then to delivery unit before customer. Reducing the touches reduces the cost and takes points of failure out of the network. Risk of delays reduced in the reducing touches approach. Last Mile technologies to deal with delivery failure, notification and visibility of when the parcel shows up. Re-directing if you are not in.
We are looking at efficiency and carbon neutrality, we aim 50% of our shipments to be carbon-neutral. It is not possible without tech, alternative fuels alone is not the answer, routing innovation is an answer.
Meeting the customer promise at all times, accuracy from the web site, every shipment is treated like an anniversary or birthday present. The tech piece comes into play. Customers in the UK expect delivery 365 days a year. Huge search Mon and Tuesday in the UK, this has an effect on the roads, we are moving more into 24 hour platforms. Finally cube is increasing
Dr Jonathan Keating on the Microlise stage
Growth of e-commerce is influencing the vehicles on our roads today.
A better understanding of people's purchasing behaviour is key. The future of mobility, implications to 2040. Government office for science, senior adviser, Dr Jonathan Keating 'Our freight study to 2040, evidence and insights for policy-makers to review strategic future issues focused on road freight.
Environment, congestion, vans represent the greatest growth in vehicles. Commuting is decreasing, rates of shopping are decreasing, growth of e-commerce is influencing the vehicles on our roads today.
More research on van use is needed. Consumers are demanding shorter windows, it generates the most CO2 per tonne moved, land use implications, where to place distribution centres, questions on desirable locations in the green belt and meeting environmental requirements.
The DfT has recently invested two million pounds to develop e-courier bicycles to move cargo and de-carbonise the final mile. Predicting vehicle miles remains difficult, a better understanding of people's purchasing behaviour is key.
The future of mobility, rates of electrification, the extent of mobility replaced by on-line purchase set the next goals to logistics. We will need greater vision for clean air zones, vans will be very important to our future, integration of infrastructure is key, regulatory incentives are needed.
Paul Strong, via link from California, technical director, Google Cloud
Just in time everything.
Unlocking the future of transport, explaining what is a computer, digital transformation and AI, we are 80 years into computing, today technology is being used differently, different experiences, you are all becoming technology companies.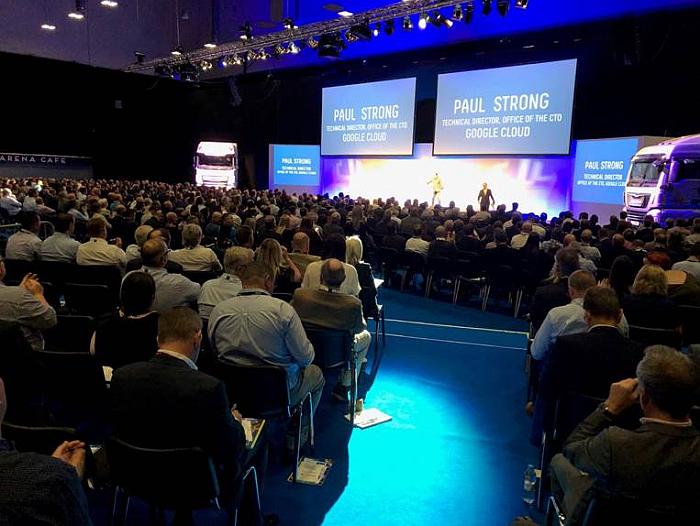 Mobility devices are shaping the world, three billion smart phones getting connected. A torrent of data every day. The cloud, being inside some one else's computer, replicating the way the brain works, it requires vast amounts of resource. Accessing the cloud allows organisations to think differently. Divesting, driving value from the technology. Investing and innovating with technology. Think of your value, get intimate with your client, present day streaming of real time analytics, simulating a vehicle crash to make the safest and most reliable machine on the road.
Let's talk AI, it's not conscious, it's interpreting, recognising, machine learning at work, communicating behind the scenes, an autonomous truck. What-if questions, truck or supply chain has a digital representation, we can then reconcile with the real world, optimisation.
Just in Time Everything, moving things just before someone wants to consume them. Its about augmentation, mixing human and technology to deliver real value in the supply chain. Assumptions, challenge assumptions in your company every day, for transport its multi-modal questions, a seamless move from point of source to delivery.
Former Transport Minister, LGV licence holder Sir Mike Penning
LGV licence holder, former transport minister, Sir Mike Penning, all-party group chair for freight. 'The forgotten industry that keeps Britain moving.' 'Quality and shortage of drivers must be addressed, how we are seen by the public and how we are seen by Govt. Issues going forward, emissions, being legal in one city and not in another. Your trucks keep this country moving. I need your help and your voice.'
Over 80% of the audience voted yes to the APPG freight group success.
Richard Turfitt, senior traffic commissioner
Technology, innovation and the future
First motorised transport established about 120 years ago, DfT celebrate the centenary of one hundred years this year.
'Effective gatekeeping, it's so important, a level playing field, those running unsafely will be dealt with quickly. Publishing a strategy is relatively new, our latest strategic measures this year will run to 2021.
Digital has revolutionised applications, 2016 VOL launched, modern age, less than three years and you can do almost everything on line. Digital signatures introduced. Asked about O-licence for vans? It's coming to Europe, it's a matter of policy.
Marian Kitson, DVSA director of enforcement
The future of enforcement.
'UK safest roads, a safe lifetime for the driver, standards always maintained, my focus is to protect you from unsafe drivers and vehicles. We have access to in excess of ten thousand cameras to focus on the non-compliant.
The statistics, 118 thousand roadside mechanical checks, over sixty three thousand vehicle defects discovered. Eighty thousand driver hour checks, seventy two thousand driver offences found! Seven million pounds of fines issued.
If you did not make it to Coventry, take an exclusive LSA laptop tour of the exhibition stands.
Exhibition stands at Microlise 2019