TfGM Manchester freight – the fifth annual event
LSA Chairman, Lomas delivers Logistics Client Chain keynote in Manchester
LSA were in the north west, logistics heartland of Manchester for the TfGM, Greater Manchester fifth annual freight forum. Big operator turnout included, Yodel, UPS, Hermes and DPD amongst the key express nationals.
Lorna McAtear, Royal Mail, 'We are investing 7 million in new compliant delivery vehicles'. We are trialling everything from LNG, CNG and even e-bikes.'
The Manchester event focused on informing and engaging the Freight sector on the Outline Business Case for the TfGM Manchester Clean Air Plan.
Megan Black spoke for Manchester. Tracey Worth talked inclusion of millennials to the logistics workforce alongside DWP Job Centre Plus guru Alex Farkas.
Carl Lomas, Logistics Skills Alliance Chairman delieverd the keynote for express freight as he looked at Client Chain driven decisions in e-retail purchase for final mile delivery. The famous pineapple doorstep delivery challenged the audience to the morality of what home delivery could be sent to the office in a question of consolidation..
The full house TfGM freight event delivered a cracking lunch and a magic mix of multi-modal operators. The TfGM target was to engage logistics industry operators and it delivered with final mile excellence from heavy LGV to two wheels and walking post.
The forum with over fifty individual operators in the room, generated a better understanding of freight operations in GM. Informing and identifying future needs and the development of potential interventions, Megan Black, TfGM, 'clean air at the heart of it.'
Opening presentation, Greater Manchester Clean Air Proposals
Megan Black, Interim Head of Logistics & Environment, TfGM opened,
'The goal of a clean air zone is to move people to cleaner vehicles.'
'We are looking to reduce NO2 as quickly as possible.'
'Tackling nitrogen dioxide, what we are planning and proposing, the next steps' Starting with the problem, air quality, it brings life expectancy down six months. The two categories, nitrogen dioxide and second, the particulates. 'Diesel vehicles are the largest source of nitrogen dioxide, Govt has asked local authorities to deal with the air quality. 60 local authorities, GM is working together for a plan for Greater Manchester. Clean air zones, from class A bus, (private hire and taxi), Class B and C split between 3.5 tonne grades, Class D for cars and motorcycles.'
Megan clarified congestion zones and clean air zones are not the same.
'the goal of a clean air zone is to move people to cleaner vehicles.' We recognise we need to support change, we are asking govt for funds for vehicle renewal. 'Clean freight fund'. We are looking to extend infrastructure, we want to increase charging points by 600. Sustainable journeys, looking at behaviour change for travel. We want to see retro fitting recognised.
Assumed clean air penalty fees look like seven pounds fifty for car and LGV van, one hundred pounds for truck for a zone that covers all of Greater Manchester. We have asked govt for 25 million to cover infrastructure. 'This is not a penalty, we assume the majority of people will upgrade using the support schemes.'
We want to hear your views, we have a six week consultation; 13th May to 23rd June, there will be further consultation in the summer.
Carl Lomas MBE, Chairman Institute of Couriers, and TfGM chair of Urban deliveries.
Keynote: ' Looking through a new lens.'
'Alternative vehicles, alternative fuels, consolidation and saving miles in final mile.'
'Compliance may be the only step to drive purchase of zero emission.'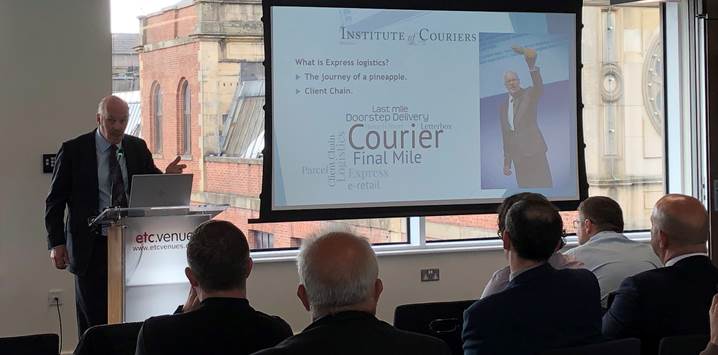 Lomas asked guests to look with a new lens at the delivery, alternative fuels, alternative vehicles, consolidation; look with a lens of clean air. Then showcased a Carmen Livery cart-board, 500 years of clean delivery licenced then at five shillings and as relevant today as it was then to see clean delivery. Lomas talked reducing miles with consolidation and client chain perception, taking a look through the lens we see clean air with.
Taking the vote – Lomas asked about the acceptability of consolidation to office delivery for home e-retail. Your office is a consolidation zone, a hundred deliveries here today or a hundred locations to your homes this evening.
Big numbers voted against home to delivery to the office with the example of food but even bigger numbers voted work related home deliveries were acceptable.
90% said home delivery to the office is acceptable on the example of reading spectacles.
80% said food was not an acceptable delivery to the office (using chocolates as a birthday present example)
50% said small items are acceptable as a delivery to the office
500 years ago cart-boards began the licencing of clean streets for London, today the lens is clean air but the principles remain. Express explosion and increasing city density, the challenge to deliver clean air solutions. Corporate excellence with DPD and their London SW1 micro depot, all EV. To deliver with fewer miles. False volume and returns at the heart of the problem. It's not all vans. Lomas touched on Cycle consolidation zones in Vienna, could we see these in Greater Manchester? Making a business case for the owner-driver covering low miles in inner city delivery zones compounded with the challenges of charging the van at home and availability of new vehicles leaves the land of zero emission in the hands of the corporate fleets.
Chris Swan, Head of Rail at Tarmac
How the construction sector can meet today's challenges
'We need capacity on rail to get heavy freight on trains.'
Chris took a lens from the rail and heavy vehicle sector, 'Rail freight in Greater Manchester & meeting the future challenges. 'We need capacity on rail to get freight on trains.'
Talking Tarmac, new sites, new technology, a new way to offload trains in Greater Manchester. Using rail to move heavy materials and make use of economics to get that material into the city. Rail need for passengers is a challenge to freight in the opportunity for growth. Cost of signalling and cost of sites at rail heads is a challenge. If you use rail in your supply it is far cleaner air delivery per tonne than road.
From the keynotes, optional workshop sessions with round-tables followed.
Workshop One
Tracey Worth, IOC, DfT, Strategic Transport Apprenticeship Taskforce (STAT) and Diversity in transport chair. Tracey Worth talked 'inclusion of workforce for logistics in a modern business,'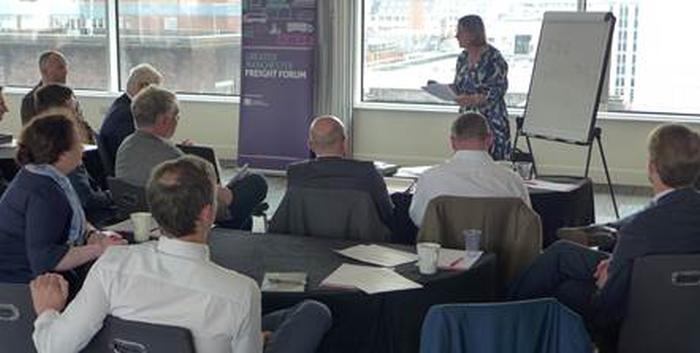 'Millennials, 35% of your next employees will look at your policy for inclusion before they make a job application to your company.'
'This session explores challenges and opportunities for the freight sector.'
'STAT is a voluntary, cross-sector industry body that has been given the responsibility for promoting awareness and access to apprenticeships, sector diversity and promoting transport as a career.' 'Adding value to your logistics company with inclusion of workforce. Think millennials and your next generation workforce, inclusion is changing and makes your future workforce.'
Asking the workshops to talk understanding in inclusion for logistics workforce success. 'Creating ambition in freight workforce. Understanding representation, mirroring society, staff retention.' All hot topics.
Today let me give you a toolkit. It's free and available to you.
Let me give you an invitation, Transport Minister Jesse Norman MP welcomes you to Portcullis House Westminster to launch the freight sector diversity and inclusivity platform for logistics, the date for your diary is May 29th
Workshop two
Research into key issues in the freight sector. A double-bubble delivery, Royal Mail & BVRLA.
Lorna McAtear, Royal Mail, 'We are investing 7 million in new delivery vehicles. We are trialling everything from LNG, CNG and even e-bikes.'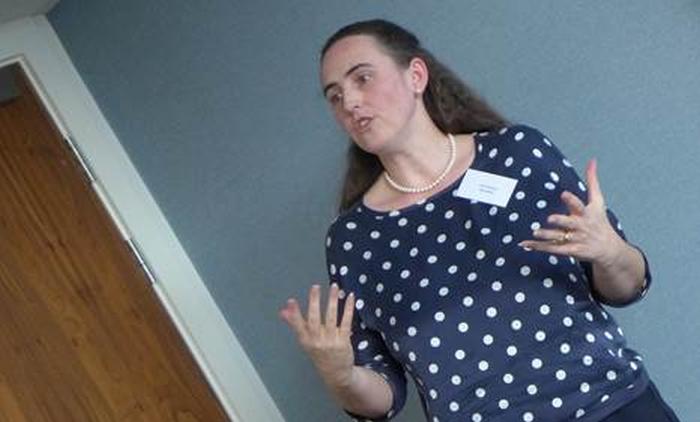 Lorna McAtear, Royal Mail,
'The red fleet, a big number of vans, we collect post boxes, 143 thousand employees, 93,000 walking post using trollies. We are trialling e-bikes. We are trialling CNG. London ULEZ, we had 385 non-compliant vehicles, a charge of £1.8m for those vehicles. We swapped out over 600 vehicles pre-ULEZ to other locations. Making it easy for your drivers, is the vehicle compliant?, we made a bunch of stickers to identify euro 4, euro 5, euro 6 vehicles. We are trialling infrastructure and electricity supply wins. 'It's about the right vehicle at the right time in the right place.'
The group was challenged to consider the issues posed by clean air zones and the London ULEZ. The session considered compliance solutions such as the role of rental and leasing in the zones, as well as discussing potential mitigation measures available. Toby Poston talked lease vehicles being the cleanest on the road. Getting the correct vehicle for clean air zones and post-Brexit regs. Understand CNG LNG in heavy fleets. We are seeing a growing request for petrol vans.
Workshop three
Safe Urban Driving (SUDS) Course, helping to evaluate the course.
Rachel Scott, Delivery Manager at TfGM
Rachel made a brief introduction to SUD training for raising awareness of vulnerable road users – this was an interactive workshop and a chance to find out more about this training, an opportunity to feed back for those that have some experience of this and discuss ways of making this offer more useful for safety on the road.
Concluding the event - Round up and the votes.
Do you agree GM needs a clean air plan? 96% said yes
Do you know about the GM plan? 88% said yes
Do you broadly agree with the GM clean air plan? 78% said No
TfGM freight event April 2019, a great success in the northern city heartland of logistics.
· Take forward practical operational initiatives of benefit to industry but which also reduce externalities;
· Act as an initial source of communication on other initiatives that have an impact on the industry as the Logistics Strategy is implemented