Hosted at London Met University – Training and the new Trailblazers are part of the clean air solution.
Rob Scott GLH Asking the sustainability question about lithium supply chain & mining.
LSA chairman Carl Lomas chairs the TfL light vehicle LoCITY event, October session was hosted in the heart of the City of London at London Met University with Costa coffee breaks to talk all things express, final mile, last mile and question the ethics of lithium supply chain.
Carl Lomas chairing with Donata MacCrossan for TfL with DfT in the room for a varied discussion; tech to training, to review clean air as a success for everyone.
Operators, retailers and academics in the standing room only, hot house of all things clear air for final mile. Guests and group members from vehicle manufacturers including LDV to retailers, John Lewis & Sainsbury's, a host of operators, Fedex, ZE Cargo, GLH, Mango, Addison Lee and more using all forms of energy, hydrogen, LPG, electric-only and hybrids.
Group chair, Carl Lomas did introductions, hosting a very interactive member update; individuals swapping concerns and success across the group, technology, availability, news and recent events including Kempton Park and the DPD Westminster electric launch. Lomas commented, infrastructure remains a key concern, reminding of the further issue of two streams of electric van user; corporates returning vehicles to depot to charge and individual owner drivers parking road side at home with little or no access to such charging. Battery and lithium supply chain hit the agenda.
Rob Scott GLH - If we are heading for a lithium base to our air quality solution via EV what can we do to ensure ethics in the countries lithium comes from ?
Richard Scarlett – John Lewis: A Retailer's view on why improving air quality is important
'John Lewis is committed to no diesel by 2028, moving to CNG. We operate as a responsible business keeping our partners happy and our customers. Everything must stack up for our customers. Our customers demand us to operate in a sustainable manner, our response is to work with delivery partners and improve air quality. Our process is not just working with electric fleets but working with suppliers who are doing the right thing for clean air solutions. Air quality, improving the efficiency of use of vehicle capacity and routes, are there opportunities to work together in the delivery mile. ' 'Technology, going too soon or waiting for next energy, we understand the cost of the latest technology, CNG, LNG, electric.' 'Can we support or facilitate to bring together solutions to unlock efficiencies in delivery.'
Vanesa Airth's welcome for London Met talked about the University involvement in express delivery for the new Trailblazer qualifications, clean air vehicles is in the syllabus, from air freight forwarding to express, LGV and warehouse funded under levy. SIPS apprenticeship via CMI on levy funding is ready today.
Daniel Brown – Renewable Energy Association – Opportunities in electric vehicle charging at commercial and industrial sites.
'We are the UK trade association for alternative fuels.' 'Our big piece is to say this is the future way to a wider energy solution, ev charging, storage on the grid, infrastructure, bio energy, bio methane in HGVs.' Daniel talked vision for fifty very rapid charge sites, 90% of the population to be within 15 miles of a charge hub. 'Road to zero, EV energy taskforce, GLA, reform of how the grids are operated, the price framework is shifting, faster and cheaper connections are in discussion. Nat West – RBS are talking to parties on financing charge infrastructure, looking at models for charging hubs from motorway service stations to supermarket car park areas. Daniel spoke about spikes and troughs in demand and the smart charging opportunities. 2030 models looking at car parks, at what point in the business model do you start to sell electricity, presently from fifteen kilowatt hours, by 2030 by 5kw hours. From a renewables view, a model on electricity cost using battery storage with solar, things get interesting as future steps make the equipment smarter. Intelligent charging is all up for debate.' 'Right to plug putting the onus on landlords. Proving the need for infrastructure, govt committed.'
Julien Allen – Westminster University: Logistics initiatives to improve efficiency and sustainability of last-mile parcel.
Working with TfL, corporation of London and many operators, same day and overnight. 'Real world research, much of the logistics research is on vehicle and technology, vehicle design, but there is a whole set of further factors, kerb side space, recharging space, overnight vehicle storage, placing distribution centres, trading links in the supply chain, product flow, frequency of delivery and management of vehicles. How full are the vehicles, how often do they return. In Central London we are looking at parcels, road capacity and traffic speed is falling in London, affordable land for carriers, people wanting faster delivery, it looks like everything is getting worse. TFL predicting more congestion on the network. Challenges for parcel sector, online sales are climbing, prices to ship is declining and speed of delivery is increasing. We are finding with gps drivers in central London are walking further than the vehicle is travelling, average vehicle distance is six miles. Hard to improve on the experienced driver but room to support the new driver for distance, parking and routes to achieve clean air solutions. Julien spoke passionately about clustering of routes, driving and walking to optimise delivery rounds. What happens to delivery rounds if we decrease time urgency, before ten, before twelve. When do we need more drivers, where do we locate delivery depot to achieve best optimisation of rounds. Modelling the depot networks and locations for Central London, work so far assumes a standard van but we can see benefits on the model from collaboration. Looking at collaborative procurement in tower buildings can improve twenty per cent of delivery times, this brings us to portering. Porters could be a solution to collaborative building deliveries. Portering could bring down vans on road, a portering service could reduce parking time of vans by over eighty per-cent.
James & Thomas – The Climate Group: EV100
The global context, Bloomberg numbers - '2024 electric vehicles will compete on cost with diesel – 300 models of new electric vehicles in 2022 - 4 million electric vehicles on the road across the world today – with the numbers tested, James talked RE100, EP100 and EV100, the projects all aiming at electric vehicle transition. 'We ask companies to move to electric fleets, also asking such to look at their suppliers to incentivise to electric.' Achieving the EV100 challenge. A solution to clean air, asking people in the room to influence the challenge success, making EVs the new normal. Benefits to business going EV include fuel and repair savings but motivation of clients and workforce are also key, providing charge points at business locations incentivise workforce to then purchase EVs. Product availability, cost and range of electric vehicles and the long waiting list for electric vehicles today is expected to be no issue by 2030.
Thomas talked member company experience, 3 Japanese members who committed to one hundred per-cent electric, DHL street scooter project, this lead to a project with Ford for larger electric vans, big savings in fuel and repair. Another case study on IKEA, over 50% of stores already offering EV charging.
Robert Scott – Greater London Hire (GLH) – Supply chain of Lithium - Cars and vans in the heart of London.
'I am a concerned party, not an expert but I have a lot of questions, I ask this forum for support in the debate. Can UK's clean air help the children of the world do the right thing? Top lithium producing countries include, Australia, Chile, China, Argentina. Lithium the key component to EV vehicles, but how do these countries fit into responsible mining of lithium. Why do we not manufacture the lithium batteries in the countries lithium is been mined. If we are to have better air quality in London have we been responsible to where the lithium has come from. My question – If we are heading for a lithium base to our air quality solution via EV what can we do to ensure ethics in the countries lithium comes from ?
LoCITY members applauded loud with support for the question of ethics for lithium.
Donata MacCrossan rounded up with a TfL Update, lots of email links. The next LoCITY road-show is Nov 20th in East London, supporting existing and new members with the LoCITY web tools. The next group meeting is Jan 2019 and the date is being set.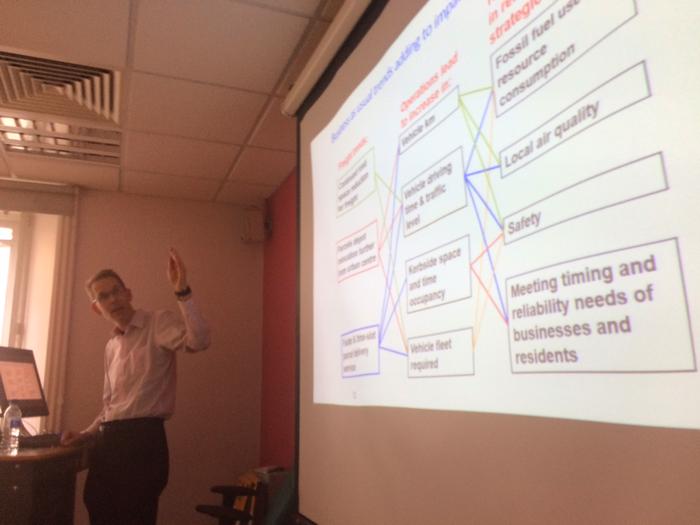 Julian Allen – The full model for clean air final mile – University of Westminster.

A full House for TfL LoCITY Van with big interaction at lively introduction session hosted by Carl Lomas, LSA Chairman.