Warehouse skills challenge on the pallet trucks and seminar keynotes on apprenticeships in logistics.
In a green number plate week of top level logistics deals the Logistics Skills Alliance hosted the Heathrow chamber logistics showcase cargo and logistics (C&L) event at its dedicated Feltham warehouse delivering hands-on, real world logistics from fork truck to driver CPC. Heathrow expansion for freight, congestion at the horseshoe, Trailblazers, levy, sorting apprenticeships from express to LGV and freight forwarding all on the agenda.
First part of the event was a warehouse challenge 'all hands to the pump' with pallet trucks between barriers in a safe and secure movement of goods between two teams of diversity, Segro & Menzies lined the route to make the last dash to the final pallet as Logistics Skills Alliance fork truck tutors explained the skills of the movement of goods in a real world ice breaker of all things logistics; proper hands-on in a safe environment to measure packages on pallets.
Mel Bruneau from M&S, specialising in the movement of hazardous goods, opened for the Heathrow Hounslow chamber group and focused on a master plan for freight at the airport. First up, the horseshoe congestion where banksmen have begun marshalling trucks between land side and air side. Mel opened up to the floor for half an hour Q&A on the Heathrow issues of getting cargo through the airport.
Blue sky vision discussions about consolidation and a consolidation centre, block-chain and communication. 'The big five are already consolidating, if they have fifty packages for New York, they are all consolidated in the same warehouse' 'Small players have a greater challenge to consolidate.'
Discussion on incentives to get cargo into slots driven by air companies as clients, finding tracking and locating package issues to aid freight success for all.
James Billingham, 'Where do apprenticeships fit in? Top tips for your next generation', 'Making logistics a sector of professional choice.'
People challenges and the demographic time bomb, explaining what this thing called logistics is to the next generation recruitment, the Aspire recruitment event at West Thames College is a local solution for Heathrow. Here at LSA we have a whole floor dedicated to logistics training and you have all just seen the training warehouse. LSA offer an end-to-end service from recruitment through training to your next generation workforce, on a local and national footprint.
We recently put together a dedicated package for Kuehne & Nagel which was particularly successful, training ranges from CPC to fork truck and full apprenticeships.
James explained apprenticeship standards and levy options to employer explaining funding reforms. James used a logistics stairway to show all the new apprenticeship standards from freight forwarding to express driver, LGV driver, warehouse and storage. Airside and port-side all signed-off for delivery.
Three top tips for apprenticeships matching logistics employers in the room. Logistics Skills Alliance is a one-stop shop for your logistics training. Three top tips, Understand the basic rules, off the job training times. Are apprenticeships right for your business? Set the best training provider, one that has capacity and is on your page with occupational competency.
Matt Snowden for University of West London was on hand to talk stairways from front line driver all the way to L6 degree for next generation managers.
Locally your business could add a project to the express logistics manager degree, such as consolidation, or congestion at Heathrow horseshoe as part of the three year learning plan.
Matt explained, Higher education is about teaching higher level skills and that's where Universities sit with reflective understanding. At West London University we are focused on apprenticeships. Matt explained levy funded routes to a degree apprentice, through levy funding it's good value for both employers and learners. The new apprenticeships have been developed by employer groups, employers similar to you. Degree apprenticeships have a level of commitment in the region of three years, this drives retention for employers who have engaged to degree apprenticeships.
What's out there for you?, sector relevant today includes level 4 data analyst, level six chartered manager, level 6 digital and technical solutions degree, level seven MBA. Coming very soon is a level five transport and warehouse operations manager, supply chain leadership professional and a level six transport planner. Also Level six express manager, University of West London has worked closely with the Institute of Couriers for this qualification dedicated to the logistics hot-spots that include Heathrow and the West London corridor.
Express delivery manager degree, Matt explained the express qual developed by many employers in the sector with the Inst of Couriers (IOC) and University of West London, this will be a qualification with assessment including Manager CPC and FORS for a real world employer-requested learning platform. A degree from University of West London will be added as twenty per-cent of the job - learning will still deliver in the three year period, your employee on the degree does not have to be in the University all the time, a lot of learning will be in your business, shadowing your business, learning on the job. No day-release; it will be blocks of learning and will be outside of logistics peaks.
Funding will be in the region of twenty five thousand pounds and comes from your levy. Lots more detail on the qual, the standard and assessments can be found on the IOC web at www.ioc.uk.com
Matt finished on a graphic explaining the end point assessment including a presentation and discussion based on a portfolio collected on the job during the three years. Locally your business could add a project to the express degree, such as consolidation, or congestion at Heathrow horseshoe.
Photo gallery of Chamber LSA event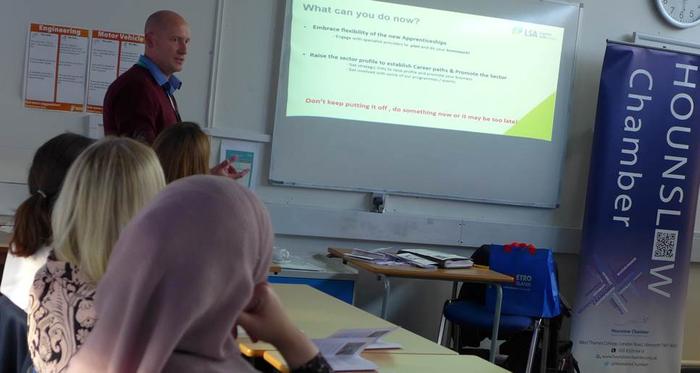 James Billingham talks logistics apprentices from express to freight forwarding and how to use levy to pay the bill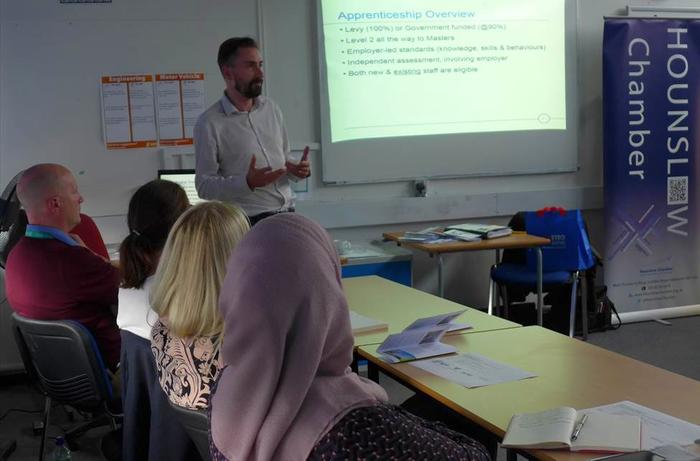 Matt Snowden, University of West London talks degree apprenticeship in Express at level six