Thursday, 12th April at 4.00 pm Regus Heathrow, Bath Road.
Logistics Skills Alliance chairman Carl Lomas was a guest of Hounslow Chamber at the oblong table of the Regus office at Heathrow with shippers, freight forwarders and handlers talking logistics in a frank and heated exchange opening on infrastructure. 'Heathrow understands cargo but do they see cargo as a market ?'
Keynotes followed on next generation workforce, e-retail digitisation and a finish on alternative fuel vehicles for clean air at Heathrow.
Mel Bruneau introduced aims of the conference, 'To find solutions, a chance to fact-find all things logistics about Heathrow.'
'Heathrow stuck in the past with infrastructure fifty /sixty years old.'
'Heathrow is about passengers not cargo !'
'How do you get in and out of the horse shoe ?'
'Infrastructure does not fit forty foot artics.'
'It's hard to unlock opportunities at forty pounds a foot.'
'Frankfurt is stealing the march, that's where it's going.'
'Truck capacity management is at maximum, trucks in and out are full, and planes are getting bigger, what will happen in ten years ?'
'We need to masterplan the south sites of the airport.'
'We need to work more closely with the airlines for complete solutions around CP10 and CP24.'
'CP20 is a nightmare.'
'Cargo is not making the flights, its missing planes daily, what can freight agents do ?'
'Airside congestion is as bad as road side.'
'We need a road planning solution that provides space.'
'Could we have separate lane for cargo traffic ?'
'We need a masterplan.'
SEGRO 'Two tier solution to cargo space. We are planning a consultation.'
Tamar Alamad from S9 technologies keynote on digitalisation and e-retail. 'S9 fit in with e-commerce focused on light goods. Heathrow fitting in with China, both ways of the supply chain. Growth in China, via technology and hand held devices, 'Wechat' for everything. E-retail started as on-line shops and many of those shops are becoming mega logistics companies. Some chains involve three to four logistics companies to deliver last mile. S9 are developing seamless integration digital systems from electronic invoice that has scalability and will clear customs.'
Ed Hussey, Director HR Services at Menzies, 'Tomorrows talent, find, attract, retain.' Recruitment today happens online. Logistics is not unique to other sectors. 'My view is there are enough candidates but we need to get better at finding candidates and attracting them.' 'You must have a clear and compelling offer to attract people to work for your business.' Asking for a CV when younger millennial candidates are using a phone on-line blocks applicants. Ageing in the driver workforce, review your approach by matching personality of applicants to the driver job role.'
Discussion followed on workforce churn between driver and warehouse roles with limited clarity on what the sector numbers are.
Winston Gordon founding director Ze Cargo, 'Environmental issues, I have driven electric for two years and lived with charging infrastructure as it evolves around Heathrow'. Winston explained air pollution, carbon monoxide, NOx and particulates, showcasing a TfL LoCity video talking nine thousand deaths in London from respiratory disease related to bad air from cars, vans and trucks. We need to focus on goods delivery but think about the impact of the fuel transport is using. Think alternative fuel vehicles, electric, gas, hydrogen and hybrid for your freight fleets. Winston spoke passionately about sound pollution and water pollution including anti-freeze discharge from the recent beast from the east into the Thames.
Guest, Carl Lomas chair of the Logistics Skills alliance & chair of light van group for TfL LoCity added, 'ULEZ, ultra low emission zone arrives April 2019, this type of compliance will force alternative fuel vehicles into use, we will see great change in the next twelve months, Nissan launch a 200 mile electric van at the NEC Commercial Vehicle show (April 24-26) later this month, DfT are also just around the corner on 4.25 tonne licence access for electric small vans.'
Sally Smith Hounslow Chamber, closed with efficiency, thanking guests speakers and warmed the view of a complete circle from infrastructure start to finish. Guests networked with vigour on all things logistics.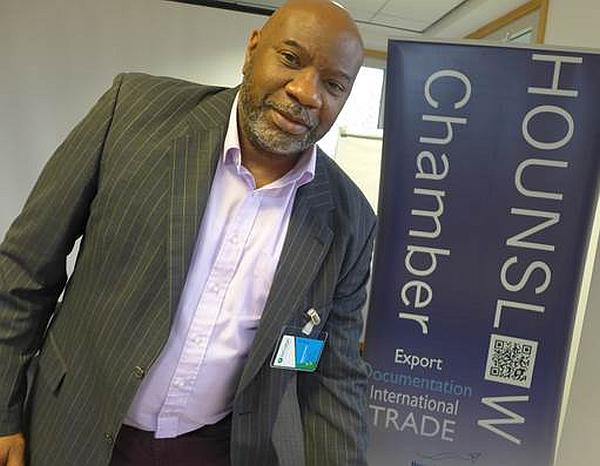 Winston Gordon arrived electric van to talk clean air alternative power vehicles for logistics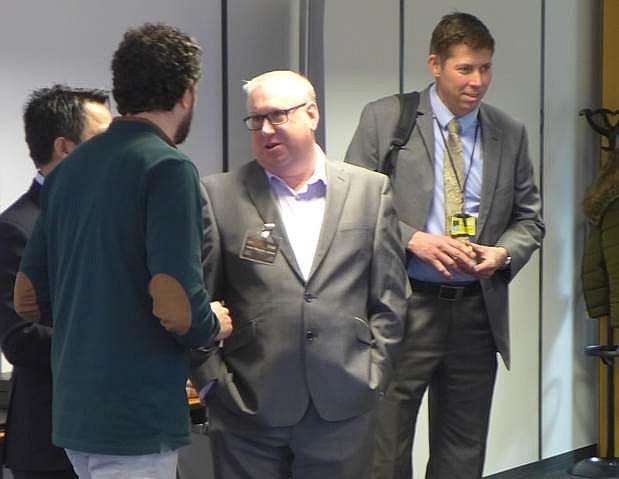 Busy networking at Chamber logistics event Heathrow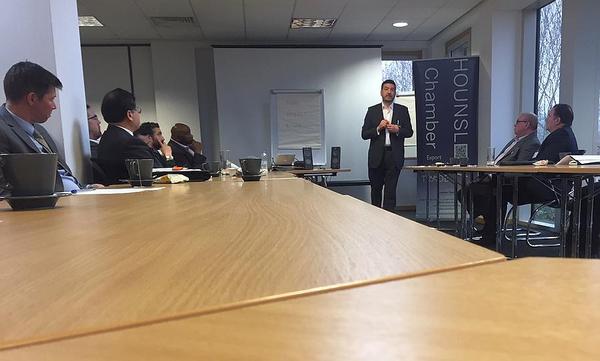 Ed Hussey, Menzies Director for HR Services